Spurs' Parker, Leonard aren't convinced Ibaka will miss Game 1
Spurs players dubious about legitimacy of Thunder forward's injury.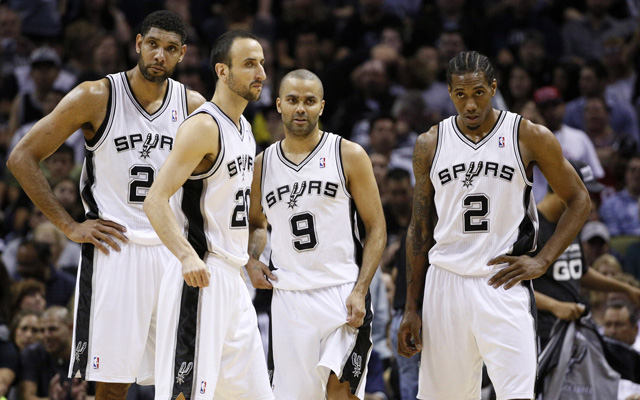 More postseason coverage: Playoff schedule, results | Latest news, notes
The San Antonio Spurs ... for some reason aren't convinced that Serge Ibaka will miss Game 1 of the Western Conference Finals, despite the Thunder announcing Ibaka is out for the rest of the season with a calf injury. 
The Thunder announced Ibaka would miss the rest of the year Friday, even hosting a conference call with GM Sam Presti to discuss the injury. The Oklahoman reports that Ibaka didn't travel to San Antonio. But like any great conspiracy theory, facts don't have a lot to do with this. 
Parker isn't quite convinced Ibaka is out: "I don't believe it. I'll believe it when I see it."

— Dan McCarney (@danmccarneysaen) May 18, 2014
Leonard not convinced Ibaka is out, either. Sounds like the Spurs are preparing for him to play, regardless of reports of his injury.

— Dan McCarney (@danmccarneysaen) May 18, 2014
So if Ibaka's clearly not going to play, why would the Spurs take this kind of stance?
Spurs just doing everything they possibly can to stay alert, avoid any possible letdown so close to the brass ring. Pop psych 101.

— Dan McCarney (@danmccarneysaen) May 18, 2014
Other things the Spurs may be convinced of:
• Kevin Durant didn't actually land on the moon. 
• Russell Westbrook was the second shooter on the grassy knoll. 
• Reggie Jackson's actually from Nevada ... a little place called ... Area 51!
Anyway, it would be a pretty impressive attempt at a fake-out by the Thunder. Sam Presti doesn't exactly strike you as a super-dramatic type of guy, but it's something to keep an eye on as we approach Game 1 Monday night. 
A report last week indicated Charlotte is looking to move Walker, along with one of its hefty...

Barea responds by claiming that none of Wall's teammates like him; the Wizards continue to...

Cousins finished with 44 points, 24 rebounds, and 10 assists
Love left Saturday's game, which the Cavs lost 148-124, due to illness

Kidd was fired by the Bucks on Monday afternoon

We've got all the scores, highlights and news from an NBA Monday