Spurs' plan on how to play better in Finals: 'Make all the shots'
San Antonio is slightly dumbfounded on how to improve, but maintains there are ways, believe it or not.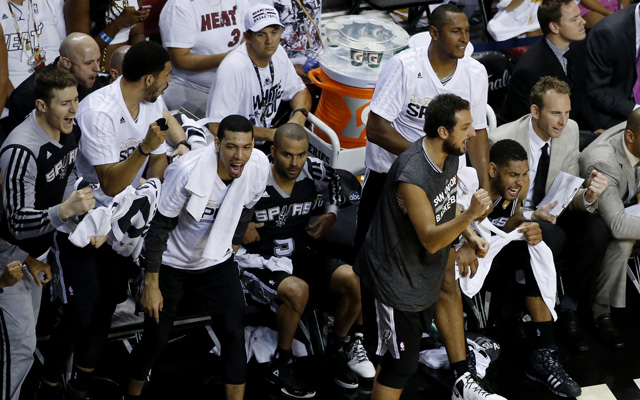 More postseason coverage: Playoff schedule, results | Latest news, notes
SAN ANTONIO -- After Game 3 and 4's blistering performances from San Antonio, where they shot 58 percent from the floor and threw nearly 100 more passes than Miami in Game 4 (according to SportVU data) the Spurs maintained Saturday at practice that they can play better. Of course, when asked how they're going to play any better than that, it got a little complicated. 
"Good question," Tiago Splitter said. "Maybe if we make all the shots."
Danny Green tried giving the standard answer. "We played really well, we shot the ball really well. And in Game 4, we moved the ball really well and shot a pretty good percentage as well. But there's always a game you could play better. Obviously we're not going to play perfect."
So how, I asked, can they possibly play better?
"I mean ..." Green paused. "I guess make more shots. Make every shot."
Green went on to say that there's still work to be done on the defensive end, but you could tell he was struggling to come up with real ways to outperform the dominant performance the Spurs have put on in these Finals in taking a 3-1 lead. 
"Get more stops, play better defense," he said. "If that was the case, it would be an even bigger differential in the games. But the other team is pretty good. They score, we score. You're not going to play perfect defense, and every shot you're going to take isn't going to go in."
Splitter even went so far as to say the constantly humble Spurs were even impressed themselves.
"We're doing a great job, passing the ball, not turning the ball over even with them being aggressive, and we have a high percentage," he said. "It's hard to play like that. We were impressed too, with the way we played. But we're happy with it, and we try and put the same focus and execution into the next game."
Kawhi Leonard, or as I like to call him, the KawhiBot 9000, was typically direct when asked if San Antonio could improve. 
"Yes. Anything's possible," he said. "You can always play better than your last game. That's how I feel."
Boris Diaw went so far as to say that he hopes the Spurs can play better. 
"Hopefully," he said. "We had some mistakes. Nothing is ever perfect. But offensively, obviously, we made some shots. We're going to keep playing the same way, keep moving the ball the same way, and put ourselves in that position so we can have some easy shots. And on defense, try and play even better, yes."
With the Spurs up 3-1 and having put the Heat on the brink of elimination facing Game 5 Sunday, it's possible the Spurs can play even better. But it's hard to figure out exactly how. But even then, the Spurs don't have to play better in order to finish off the Heat for that fifth franchise title. They just have to play nearly as well as they have. And after all, that consistency is what makes them the Spurs. 
The Warriors coach added there should be no shame in being picked last since everyone's an...

We've got all the scores, highlights and news from all of Saturday's games

The two teams have reportedly not had any substantial discussions to this point
Oladipo may be getting most of the shine, but this second-year big man has been phenomenal...

SportsLine's Mike McClure, a DFS pro with more than $1M in winnings, gives optimal lineup...

The Lakers were just 2-14 from the stripe