Spurs' role players can't imagine basketball life outside of San Antonio
A winning environment, a great offensive system, and one win away from a title, the Spurs can't envision a world where they're not a part of the Spurs.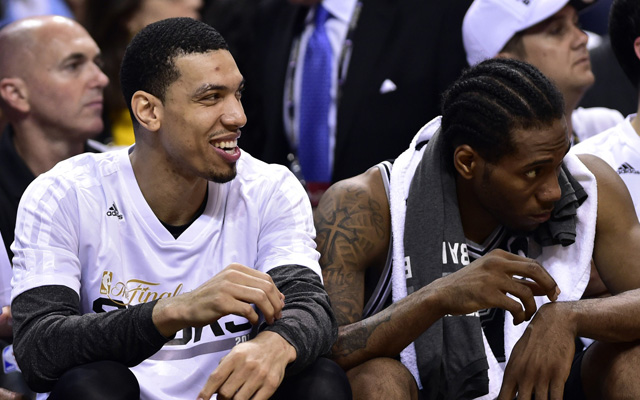 More postseason coverage: Playoff schedule, results | Latest news, notes
SAN ANTONIO -- For some of the Spurs, playing in San Antonio has been salvation after a career adrift. For others, it's the only thing they've ever known, constantly competing championships year in and year out. The NBA is a place known for its player movement. Secretly, that's one of the keys to its popularity. Players seek out nicer cities, different environments or playing with friends. So it makes you wonder, do the Spurs ever wonder what it would be like to play somewhere else?
"No. I can't, to be honest," Danny Green said. "I'm blessed to be a part of this organization, a part of this team. I'm blessed to play with so many greats, Tim (Duncan), Tony (Parker), and Manu (Ginobili). And hopefully they can stick around a little bit longer to help my career out."
Green started his career in Cleveland, where he flamed out. He was cut multiple times by the Spurs and spent time with their D-League affiliate team in Austin before finally sticking and becoming a starter and key shooter for a team up 3-1 in the NBA Finals headed into Sunday night's Game 5.
Tiago Splitter is an older player at age 29 but his entire NBA experience has been in San Antonio. And despite having flirted with the Portland Trail Blazers in free agency last summer, Splitter has never wanted to be elsewhere.
"No, the way I play," Splitter said. "I don't feel like right now I have a better place to be. I'm really happy to be here and hopefully I can be here longer."
Boris Diaw hedged a bit more when asked about the possibility of playing somewhere else. Diaw will be an unrestricted free agent this summer.
"It's been great," Diaw said. "Of course, I'm happy to play here and they play great team basketball."
Oddly enough, it was the infamously quiet, terrible quote Kawhi Leonard who gave maybe the best perspective on the idea.
"No, I haven't (imagined it)," Leonard said. "This was the team that drafted me. I wanted to be on a team that knew how to win when I got drafted. So no, I can't imagine it."
And if you want to be in a winning environment, the grass is never greener than on the side of the San Antonio Spurs.
Durant helped build the court in Manhattan as part of his community outreach program

Prince will be a special assistant to Memphis GM Chris Wallace

He speaks out at a LeBron James Family Foundation event; he tweeted about Charlottesville on...
Smith was at the event to support his Cavaliers teammate

Trade talks involving Irving have seemingly stalled in recent weeks

The three stars were joined by a number of other NBA players