Spurs sit Duncan, Ginobili along with injured Parker for game vs. Warriors
Will the NBA fine Gregg Popovich and the San Antonio Spurs for sitting their star players against Golden State on a nationally televised back to back road game?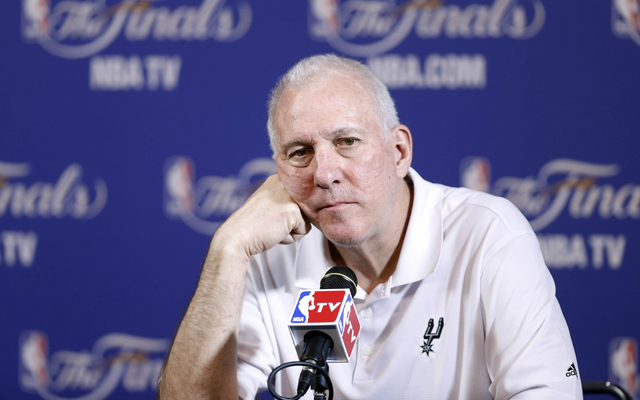 Gregg Popovich is about to send the NBA a very merry Christmas present, most likely. 
The Spurs announced Thursday that Tim Duncan and Manu Ginobili will miss the Spurs' nationally-televised game against the Golden State Warriors at Oracle arena Thursday night with rest. No fake injury, just rest. Tony Parker is already out with a legitimate shin injury suffered earlier this week. 
The Spurs are on a back to back road-and-road set, which makes this exactly the kind of game that Popovich tends to choose to sit the Big 3. But last year after sending Duncan, Parker, Ginobili, and Danny Green back to San Antonio before a major game vs. the Heat, the NBA fined Popovich and the Spurs for the decision. 
It's a bold move by Popovich to stand by his principles. Given that the Spurs wound up winning the Western Conference last year, it's kind of hard to question his methodology. But with Derrick Rose out vs. Oklahoma City, the league's ratings are going to take a beating on what would have been a high profile night of the stars. 
We'll see if Stern, just two months away from retirement, decides to let this one go or if the league pursues its policy of penalty for messing with the weekly big night of games. 
Kevin Mackey says he gave Manute Bol a birthday because they didn't know how old he was

Hosts Bill Reiter and Reid Forgrave are joined by America's Lakers Podcast co-host Aaron L...

Meanwhile, we learned the hard way just how many supporters Lonzo Ball still has out there
The fifth-year forward has continued his growth on both sides of the floor

Former Vegas bookmaker Micah Roberts just locked in his pick for this huge Wednesday night...

Another tough blow for a Clippers team that has lost nine games in a row