Spurs-Thunder Game 4 Preview: Will home court advantage hold?
Previewing Game 4 of the Western Conference finals between the San Antonio Spurs and the Oklahoma City Thunder.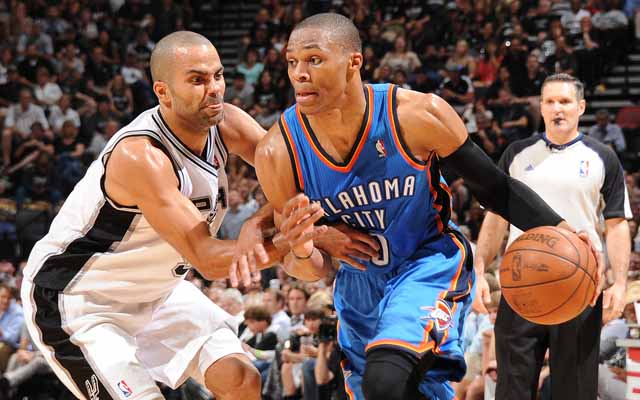 Spurs and Thunder hit the court for Game 4 of the Western Conference finals on Saturday night.

(Getty Images)
Previewing Game 4 of the Western Conference finals between the San Antonio Spurs and the Oklahoma City Thunder. 
1. Where We Are:
 The Spurs are up 2-1 in the series with the home team holding serve in all three games. Oklahoma City pulled out a blowout Game 3 win with its back against the wall, ending San Antonio's absurd 20-game winning streak. OKC won Game 3 with solid defense, as they held the Spurs to just 82 points, the team's lowest output since Jan. 27. So far during the playoffs, San Antonio is 6-0 at home while Oklahoma City is 5-0. Can the Thunder keep their Chesapeake Energy Arena perfection intact on Saturday night and even the series at 2 games apiece?
2. The Big Number:
 2. Spurs big man
Tim Duncan
grabbed just 2 rebounds in Game 3, confirming beyond any shadow of a doubt that this wasn't San Antonio's night. Duncan, who can still control a game with his rebounding after all these years, had 5 or more in every playoff game before that and has only put up a number like that this season in games where he was playing limited minutes or in ugly losses (he had 2 rebounds in a January loss to the Minnesota Timberwolves and an April loss to the Los Angeles Lakers). So far in this series, the team that has won the rebounding battle has won the game. 
3. Key Adjustment:
 This might not technically count as an adjustment, but Thunder guard Thabo Sefalosha decided to play completely out of his mind on both ends during Game 3. Sefalohsa finished with 19 points, 6 rebounds, 1 assist, 6 steals and 1 block in 37 minutes. Along the way, he drew defensive responsibilities on
Tony Parker
, who finished with 16 points and 4 assists, a disappointing evening by his high standards. Sefalosha is a critical X-factor for the Thunder, who need a reliable fourth scoring option to keep pace with the Spurs if they are to come back and take this series. OKC's defense of Parker will definitely be the chess match to watch in Game 4. San Antonio will have adjustments ready if OKC goes big on him again and its hard to hold down the Spurs offense in the same way two times in a row, so there could be further defensive adjustments coming from the Thunder, too. 
4. The Big Story:
 During the regular season, San Antonio was No. 3 in the league at taking care of the basketballl, posting a turnover rate of 22.7 percent. That's impressive, considering that they also operated at a well above-average pace. Game 3 saw 21 Spurs turnovers, though, including 5 from Parker and 4 from
Manu Ginobili
. The Thunder gamble, pressure and switch on the perimeter as well as just about anyone in the league but that number is way, way too high for a team as disciplined and in-sync as the Spurs. Surely coach Gregg Popovich has spent the last 48 hours lecturing his troops on ball control. Meanwhile, the Thunder, who finished the regular season dead last in turnover rate, are now ranked No. 2 in the playoffs at protecting the ball. Indeed, they've won the turnover battle in all three games this series, including by a whopping +14 in Game 3.
Russell Westbrook
hasn't found consistent offense yet in the series, but he's continued to protect the ball well overall.
5. The Facts:
 8:30 p.m. EST tipoff; no significant injuries.
LeBron had 29 points, 11 rebounds, and 10 assists in the Cavs' 109-100 win over the Jazz

The montage showed Carmelo's best Knicks moments before playing the Thunder game

KCP can't leave California for 25 days due to the terms of his pleading guilty to a misdemeanor...
Keep it right here for all of the news, notes, scores and highlights from around the leagu...

LeBron tried to keep what he said a secret, but one mic on the court picked it up

SportsLine's Mike McClure, a DFS pro with more than $1M in winnings, gives optimal lineup...