Spurs' Tony Parker (ankle) says he'll play in Game 1 of NBA Finals
San Antonio Spurs' point guard Tony Parker tells a French radio station he'll play in Game 1 despite an ankle injury.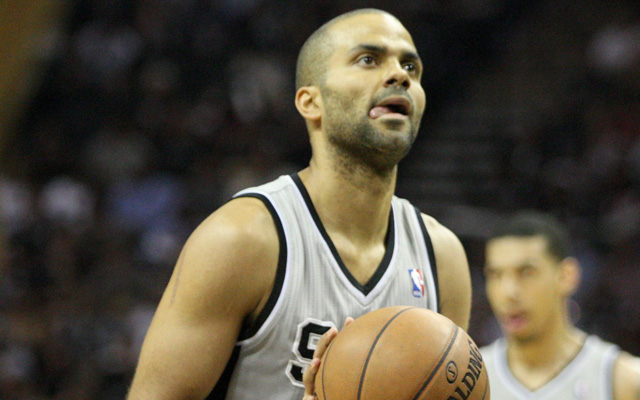 More postseason coverage: Playoff schedule, results | Latest news, notes
San Antonio Spurs' point guard Tony Parker didn't play at all in the second half of his team's Game 6 victory over the Oklahoma City Thunder, which sent the Spurs into their second straight NBA Finals. His ankle injury from earlier in the playoffs just wasn't allowing him the mobility or comfort to keep playing and he had to rest while hoping his team would pull through the loss of him. He's been getting treatment on it and told a French radio station he'll play in Game 1.
The San Antonio News Express has the translation from the radio interview in which Parker describes the injury and says while he may not end up being 100 percent with his ankle status, he'll be beside his teammates and playing in Game 1 on Thursday.
"I twisted my ankle in Game 4 of the first round against Dallas. I continued to play with the pain and I again twisted the ankle in Game 4 of the conference finals against Oklahoma City. I gritted my teeth; I did not mean to abandon my teammates. But the pain was too strong in the sixth game. I could not really play anymore.

"Today, I spend my days in treatment. But the good news is that I will play the first game of the Finals on Thursday against the Heat. I may not be 100% but I'll be there. In 13 years, I played seven conference finals and I have the chance to play my fifth Finals with Spurs. This is really great. I continue my dream, this is really something great."
Parker's removal from the game in the Western Conference finals was a huge surprise, but it didn't seem to hurt his team at all. They rallied behind the experienced core players and Cory Joseph did a nice job of filling in at times in the second half. But they'll need Parker and his ability to get into the teeth of the defense in order to put the Miami Heat's defense on their heels. He was instrumental in nearly defeating the Heat in 2013, but a hamstring injury during the series did limit his effectiveness. 
The Trail Blazers almost traded for Charles Barkley, but when they didn't, it put them in debt...

The self-proclaimed ASG snub Williams may be bitter about Butler requesting to sit out Sun...

The commish said they were overly conservative with the decision this year, but that should...
A dive into the NBA history books for every result from every NBA All-Star Game

James set the tone during practice that this year's All-Star Game was going to be differen...

The 76ers center handled 'mismatches' like they were nothing