Spurs-Warriors Game 5: Harrison Barnes reaching his potential
Harrison Barnes had a good Game 5 and lost after he had a bad Game 4 and won. We look at the details behind the Warriors rookie's series.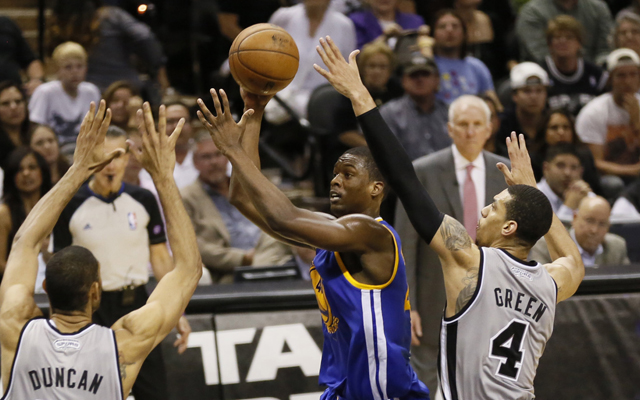 Warriors F Harrison Barnes was pretty bad in the win he got too much credit for, and terrific in the loss that no one will remember. 
In the Warriors' Game 4 win, Barnes scored 26 points on 9 of 26 shooting. In the Warriors' Game 5 loss, the rookie scored 25 points on 10 of 18 shooting. Game 4, Synergy Sports recorded him as having a .79 points per possession mark. In Game 5, a 1.19 mark. 
See the difference? One point of difference, a world of efficiency difference. 
But the story in Game 4 was that Barnes' aggressiveness was what was needed, and in Game 5, it was that he was ineffectual even in scoring in volume. In Game 4, the storyline says that Barnes was the leader in an ugly game for both sides and that those points were a big part of why the Warriors won. In Game 5, his contributions were meaningless in a runaway loss. 
Barnes was +13 in Game 4, -19 in Game 5. 
So what's the truth? 
The truth is that the results color our perception. Had the Spurs made a few shots in Game 4, and we mean just a few, then Barnes was an over-aggressive rookie who played beyond his limits. If the Warriors' defense had more energy and strength in Game 5, Barnes is the hero. But we retroactively fill in our jugments of games based on the result a lot of times, especially when the player is a rookie we have no expectations of. 
In Game 4, the Spurs were encouraging Barnes to create off the dribble. It's not his strength yet, and he can get too wild and untempered with his movements. If the Spurs have to deal with Barnes posting up a smaller defender or a Klay Thompson spot-up three or Stephen Curry doing anything, which do you think they live with? Taking what a defense like the Spurs' gives you is not a good look most times. 
Barnes played outside of his game in Game 4. Not a lot. He's going to get there. He's going to be the player you can give the ball to and watch create, even when the defense is primed against him. That trajectory is clear. But he's not there yet. 26 shots is too many for Barnes, no matter what the defense is giving him. Spreading the ball, moving the offense, finding the open shooters, that's what the Warriors do well. They're too good of an offense to require that kind of inefficient production from Barnes. 
I mean, they're not the Knicks. 
Game 5, however? This was the wondrous Harrison Barnes. Open corner jumpers. Driving to the rim when the defense was caught in a bad rotation. Pulling up in space in transition. Posting against smaller defenders. Barnes played within his game, and when he has done that this postseason, he's been phenomenal. 
Ironically, the Warriors have been looking for a veteran small forward for a full year. They tried to get one at the draft last year, offering the pick that became Barnes. They tried throughout the season to kick the tires on Rudy Gay. They have wanted a veteran wing to replace Barnes. Barnes was put in this position by default. But he has excelled. He was good this season. He's been great in the playoffs. 
Some of what the Warriors have done with their postseason run has been... exceptional. Draymond Green isn't going to shoot like this for any long stretch. Jarrett Jack is playing the singularly best basketball of any stretch of his career. Stephen Curry is redefining what a hot streak is. Andrew Bogut seems healthy. 
But Barnes' progression seems like the most sustainable development of all. This was his potential as a freshman at North Carolina. A sophomore season brought concerns that the was more Marvin Williams than Dwyane Wade. But Barnes has stepped up and been granted the gift of playing in the small lineup that forces adjustments by the other team that play to his strengths. And he's taken full advantage. 
So no, Barnes did not have the good Game 4 people pretended he did. And he did have an exceptional Game 5 that will be forgotten in the loss. But the bigger trend is what Barnes is willing to do and how he's discovering what his game is in the NBA, on the biggest stage. 
And that's an experience with a value you can't put a number on. 
We've got all the scores, highlights and news for Thursday night

The Sixers big man got his first All-Star selection -- and maybe some revenge -- on Thursd...

It appears some players are not entirely taking the All-Star voting process seriously
There were some weird discrepancies between the fan, media and player votes

LeBron and Steph will be the captains for the 2018 NBA All-Star Game

Arron Afflalo was involved in an altercation with Timberwolves big man Nemanja Bjelica on...