Spurs-Warriors Game 5: How the Spurs extinguished Curry for a night
A detailed look at Stephen Curry's struggles against San Antonio in Game 5.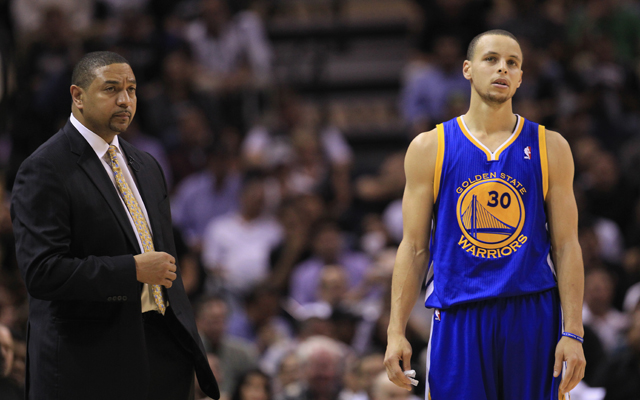 Stephen Curry wasn't right in Game 5. A glance at the box score will tell you that. Four of 14 from the field, for the greatest shooter these playoffs have known, the kid who has people questioning his place in the top ten, nay, the top five of the NBA hierarchy? Unthinkable. 
As if the kid doesn't get to have a bad game every now and again. But if you're looking for someone to criticize Curry, look no further than the Warriors' star point guard himself. From CBSSports.com's Ken Berger: 
"I was terrible, plain and simple," a dejected Curry said at his locker after a dismal nine-point performance on 4-for-14 shooting -- including 1 for 7 from 3-point range -- with four turnovers.

"I think I held my own in the first four games, but tonight I wasnt locked in and thats inexcusable," he said. "This is a big game and I kind of dropped the ball."
via Spurs execute game plan -- wisely clamp down on Curry - NBA - CBSSports.com News, Scores, Stats, Fantasy Advice.
So did Curry struggle because of his ankle, the Spurs' defense, was he not "locked in" like he said, or did he simply miss shots?
Let's take a look at a few examples. We start with the end, where in the fourth quarter, Curry had a chance to cut into the Spurs' burgeoning lead. He found himself with the rare opportunity for a clean jumper. Nope. 
So by the end of the game, Curry's just missing shots. He doesn't really rush that one. That's just a miss. No big deal. 
Let's back up to the second half. Here's a good example of how this wasn't Curry's night, but he didn't make things any better. This looks like a terrible shot because he misses it, but this is what Curry's been doing in these playoffs. What's interesting is how much slower his release is Curry's normal release is insanely fast, it's like a bug flying off your arm when you go to swat it. 
Instead, you notice Curry trying to put more on it. He's not snapping his wrist, he's heaving it. And you see the effect when it hits the back of the rim. Again, this could just be a miss. But these little details show you a little bit of what the Spurs did against him. 
So where did Curry have success? Well he nailed two layups when the Spurs' defense didn't rotate correctly after they ran him off the three. And he hit this one, which is more in his "ridiculous wheelhouse" he's established these playoffs. 
Notice this is one where he's not off a continual dribble. He struggled on those all night. Again, from Berger: 
"They're making adjustments to try to run you off the 3-point line," Curry said. "The only way I was really able to get a look was just off the dribble, off pick-and-roll, which is a good gameplan for them."
via Spurs execute game plan -- wisely clamp down on Curry - NBA - CBSSports.com News, Scores, Stats, Fantasy Advice.
Curry missed several shots coming off the pick, and whether he couldn't get the lift off the ankle, didn't have the energy to execute, or was rushed  by the way the Spurs were scrambling against and over screens, it worked. But in the clip above, he dribbles quickly into a rhythm shot. Curry annihilated the Nuggets with this kind of play in the first round. When the opponent runs him off, Curry can actually hit the side-step reliably, but the Spurs rarely over-extend on their closeout, staying close, staying home. 
Now let's go back to the very beginning of the game. And you'll see how the Spurs' pressure and Curry's own fatigue made Curry hesitant, and lead to poorer decisions. In the clip that follows, Curry will wind up taking a bad floater, off his injured left ankle no less, after passing up this shot on a curl catch-and-shoot: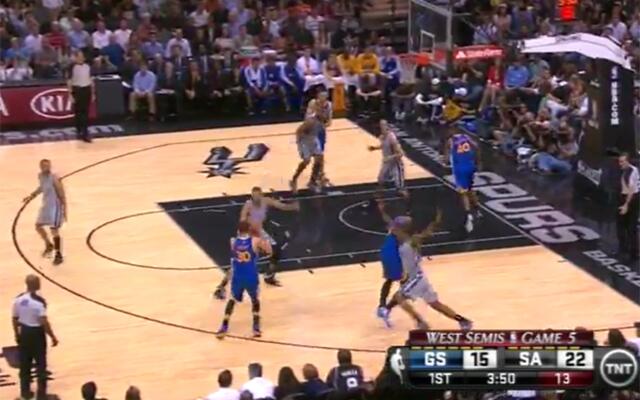 Rattled. Exhausted. Off his game. Not locked in. 
A seven-game series isn't about seven individual contests. It's an evolution from one game to the next. It's about the cumulative effect of one team against another. In Game 5, we saw the work that the Spurs have done against Curry, and the exhaustion he suffered from the load he's had to carry, especially on a bad ankle. 
Game 6 represents another chance to refresh the defenses, to refit the armor, and bring better weaponry to the fight. Curry can bounce back. He has to bounce back. Because otherwise, the Warriors' incredible run ends in Oakland Thursday.
Mayo was suspended for two years last summer for violating the league's anti-drug program

The NBA broke its silence with a statement related to the Lakers-Paul George tampering cha...

The Clippers big man thinks LeBron will reunite with the banana boat crew at some point
Have the Clippers reportedly found their next GM?

The NBA stayed to the point in their response to the Greek basketball federation

The Pacers believe the Lakers tampered with Paul George before they traded him