Stackhouse: LeBron 'misinformed' about state of union
NBPA committee member Jerry Stackhouse told CBSSports.com on Monday that LeBron James' recent comments on the state of the union were "misinformed."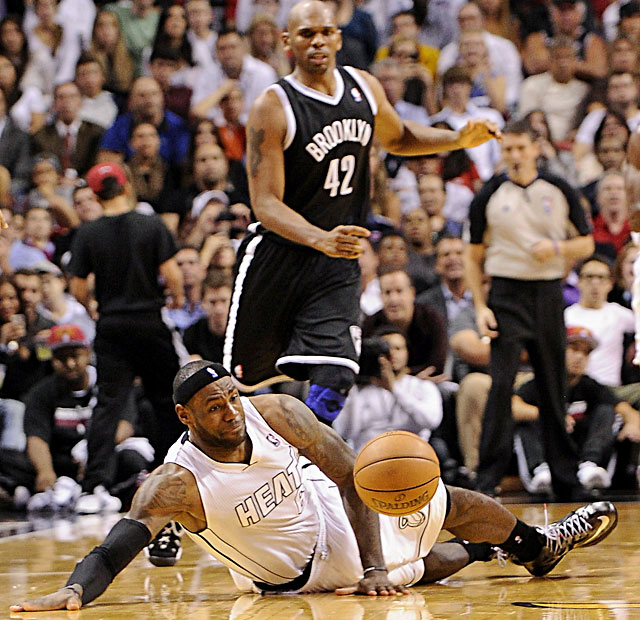 Calling LeBron James "misinformed" about the state of the National Basketball Players Association, executive committee member Jerry Stackhouse told CBSSports.com on Monday that the union "is in a good place" and "moving in the right direction."
"He's the best player in the game right now and we want the entire league to be involved," Stackhouse said in a phone interview while in New York on union and other business. "But he needs to be informed in speaking on our union business."
James, who has decided not to follow through on a contemplated run for NBPA president,  said in an ESPN interview this week that the union was "going backwards," and added, "My voice could be huge in that situation."
Stackhouse, one of seven executive committee members elected at All-Star weekend in Houston this past February -- when longtime executive director Billy Hunter was ousted -- said James' comments felt like a "kick in the stomach." 
"I don't think he's had any dialogue with anybody since the All-Star break, but it is what it is," Stackhouse said. "To make that statement about where we are as a union right now, he was misinformed." 
Stackhouse, 38, an 18-year veteran who does not have a contract for next season, said he does not plan to run for president when the NBPA convenes Aug. 21 in Las Vegas for its summer meeting. The union's first summer meeting since Hunter was ousted over concerns about nepotism and conflicts of interest also will include the announcement of the executive committee's selection of a search firm to find Hunter's replacement, Stackhouse said.
James is one of many players who will not be attending the crucial meeting due to other offseason obligations. Since the executive committee sent a memo to the union membership about the timing of the meeting to elect a new president and discuss how Hunter's successor will be chosen, numerous players have scheduled conflicting informal team workouts and won't be able to attend. 
"I would've liked [James] to come to the meeting next week and hear it and then voice his opinion," Stackhouse said.
One of key criticisms of union governance in a January report on Hunter's tenure by the Paul-Weiss law firm was a lack of involvement among the union membership.
"It hasn't been a priority," Stackhouse said. "We can't wait until collective bargaining to get engaged in the business of basketball."
Stackhouse and fellow executive committee members James Jones, Roger Mason Jr. and Andre Iguodala have taken a leadership role in trying to put the NBPA on the right path in the wake of Hunter's ouster. Among the internal discussions, according to league sources, has been that the composition of the 30 player representatives be changed and that a formal role be found for retired players in the union's governance, league sources told CBSSports.com. Union by-laws would have to be rewritten for such changes to take effect.
Currently, one player representative is elected per team, plus an alternate. The format sometimes becomes problematic when trades occur and teams are left with either no player rep or a rep who is not well versed in union business.
Though any player can be nominated for Fisher's post, there is a strong preference among some in the union leadership for an experienced executive committee member to move into the top job. One possibility would be vice president Chris Paul, but Stackhouse called it "unrealistic" that a superstar with so many on- and off-court obligations could handle the job.
"I think Chris understands the type of strength that comes about with it," Stackhouse said. "With the superstars in our league -- LeBron, Chris Paul -- we want all those guys to be a part of the union and be a voice. ... But that's a tall task to ask one of our marquee, superstar guys."
Among the arguments against promoting from within on the executive committee is that four of the nine committee members (excluding the outgoing Fisher) were on the committee at the end of Hunter's controversial tenure and during the lockout, which was widely viewed as a negotiating victory for the owners.
"The question for the players is, do you see the dynamics of how things are changing, all while the players get shorter contracts and less money and the game's been growing every year?" Stackhouse said. "Something's not right with that picture."
Porzingis is questionable for Carmelo Anthony's return to MSG on Saturday

The Spurs and Rockets will renew their in-state rivalry on Friday night

Anthony will play at Madison Square Garden on Saturday for the first time since being trad...
SportsLine's Mike McClure, a DFS pro with more than $1M in winnings, gives optimal lineup...

The Cavaliers won the much-anticipated matchup, 121-112

Two of the league's most interesting teams will meet on national TV on Friday night