Stan Van Gundy and Dwight Howard: Buddies to the end, and beyond, apparently
Stan Van Gundy has recruited Dwight Howard for a campaign to raise property taxes, which would help improve schools in a Florida county.
I have no idea how we got from this ... 


... to this, but we have.
Stan Van Gundy and his former Magic star Dwight Howard are teaming up again for a good cause. A little background: Van Gundy is involved in a cause to raise property taxes in Seminole County, Fla., where he still owns a house. Raising the property taxes will bring an estimated $25 million to the school district, which has been getting crushed by spending cuts. (Do you have strong feelings about the politics of taxes and spending? Great! Go comment on it in a political blog. Here, we're talking basketball and awkward social situations.)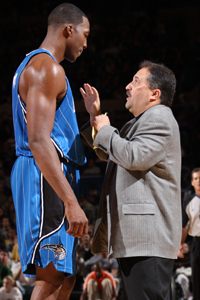 BFFs.
(Getty Images)
He's trying to bring awareness to the issue, so he brought in the big guns. From the Orlando Sentinel: 
Van Gundy says Dwight, who was recently traded to the Lakers, is going to lend some financial backing to the cause.

"Dwight has pledged his support," Van Gundy said Monday during an interview on our Open Mike radio show on 740 The Game. "He's a resident of Seminole County, and he's keeping his house here. I think his history will show that he's had great concern for kids in the Central Florida community. With him still living here, we asked him to help and he didn't hesitate."

Surprisingly to some, both Van Gundy and Howard said they are on good terms and have been communicating regularly in recent weeks. Van Gundy even texted Howard and wished him good luck after he was traded to Los Angeles.

"We are on good terms and always were," Van Gundy said. "Whatever our disagreements happened to be, they were on the professional level — they were about basketball and our jobs. Personally, we never had a problem. We liked each other. I have great admiration for the things Dwight did in the community and for the way he involved himself with kids. I really do want the best for him, and I think that's mutual."
via Dwight Howard helping Stan Van Gundy fight for schools in Seminole County – Open Mike – Orlando Sentinel.
Professional sports is the only place in which this kind of thing could happen. If someone got you fired, would you ask that person for help? Or for anything? If I was Van Gundy, and I were physically on fire, and Dwight Howard was the only person with any water for a thousand miles, I'd ask someone else to kick dirt on me. 
Good on Van Gundy for being willing to rise above it, and good on Howard for still being involved in the community regardless of your political feelings on the subject. (Again, there political blogs for you to express your views in the comments in places that are not here!)
... But since we're here, I have a suggestion for how to really raise money for the campaign. LIve stream a pledge drive. If people donate enough money, Van Gundy gets to throw a pie in the face of Dwight Howard. No physical harm comes to Howard, and it's for a good cause. I would prefer Van Gundy dumping a Diet Pepsi on Howard; that would really be the highlight of the year. How much would you pay to see SVG nail Howard right in the face with a coconut cream pie? 
I'd also be OK with repeating this process ad nauseum until we've solved global poverty.
We've got all the scores, highlights and news from all of Sunday's games

The Rockets beat the Warriors 116-108 on Saturday night

The Cavaliers gave up 148 points in their loss Saturday afternoon to the Thunder
Blatt made the comment before coaching in the All-Star Game in Turkey

Is this rock bottom for the Cavaliers because it sure feels like it is

Wade, as he's done so many times in his career, threw it up to LeBron for the thunderous f...