Stan Van Gundy says Orlando's culture changed under CEO Martins
This may shock you, but Stan Van Gundy isn't done talking about the Orlando Magic post-Dwight, and people aren't even close to asking him about them.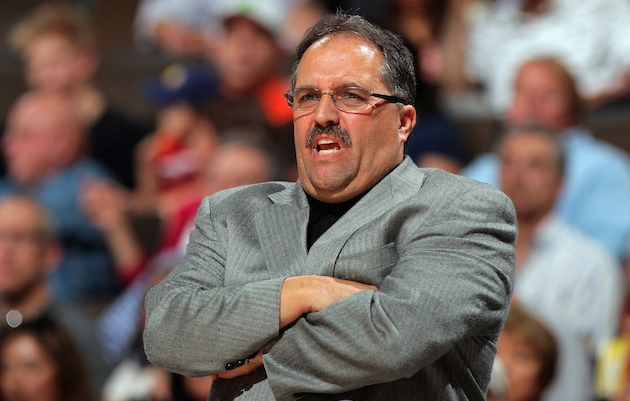 Stan Van Gundy tees off on the Magic. Again.
(Getty Images)
This may shock you, but Stan Van Gundy isn't done talking about the Orlando Magic post-Dwight, and people aren't even close to asking him about them.
And I for one, am excited to continue listening.
Van Gundy already conceded that the situation was handled very poorly by the organization while also being "confused" by Dwight Howard. But he's back with another radio interview and this time he told AM 740 in Orlando, via the Orlando Sentinel, that he felt Howard didn't like him and CEO Alex Martins is in over his head.
"It's a typical lack of understanding from someone who has no sports knowledge, who has never coached or played, who has never been in a lockeroom….it's a naivete."

"….I'll stand on the relationships with players based on the results we got.

"I think Alex's comments are based on the fact that Dwight and maybe others didn't like me…and thinking somehow that's important."
Van Gundy added that he felt the "culture and values" of the organization changed after former CEO Bob Vander Weide retired and Martins was promoted to his position.
"When Bob left, it really became Alex over everything," Van Gundy said. "The Dwight thing was so big….in an effort, I guess, to make Dwight happy and everything else, we compromised a lot of the culture and values we had before that. It's always a mistake when you compromise those things…everything goes South. It was no longer a team-first thing ... It was inevitable things would not go as well."
However, Van Gundy didn't try and pretend he was blameless. He was willing to take responsibility.
"I'll take my share of the blame and management needs to take theirs," he said.
Van Gundy also reiterated that he was told Howard had requested he be fired. When asked who alerted him, he didn't name names exactly, but didn't hold back either.
"Basically everybody that was above me, to the top level," he said. "In my mind, there's no real dispute that that happened. There's been people trying to run from it and cloak it in different ways."
One other note from the interview: Van Gundy said he wants to coach again, but is in no rush. Until then, like his brother Jeff, he'll work as a TV analyst. To which details are currently being worked out.
Victor Oladipo just wants to live his life and enjoy his breakout season with his new team

Keep it right here for all of the news, notes, scores, and highlights from around the Asso...

LeBron has a player option for next season, and is expected to opt out and become a free a...
The Pistons will be looking to snap a five-game losing streak when they host the Celtics on...

Bryant offers some advice for Ball and other rookies about having a sense of urgency in the...

Burks has stepped up in a big way for the Jazz, averaging over 20 points per game since Rodney...