Stan Van Gundy: Will Derrick Rose ditch the Bulls if they can't land more stars?
Former Orlando Magic coach Stan Van Gundy wonders whether Chicago Bulls point guard Derrick Rose will leave the team when he becomes a free agent.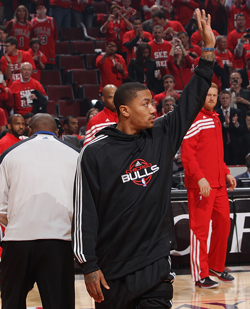 Would Derrick Rose ever wave goodbye to Chicago?
(Getty Images)
Hell hath no fury like an ex-coach scorned by a franchise player's decision to hijack his team in free agency.
Former Orlando Magic coach Stan Van Gundy got burned badly by Dwight Howard last season, as the All-Star center issued a public trade request, waffled back and forth about whether he wanted to re-up with the Magic and then denied going to management to have Van Gundy fired just minutes after Van Gundy told reporters that he had made such a request.
Now without a coaching gig and with Howard traded to the Los Angeles Lakers, the outspoken Van Gundy is dishing freely on a number of matters, including the possibility of another big-name NBA star ditching his team to chase a championship.
ESPNChicago.com notes that Van Gundy told an Orlando radio station that Chicago Bulls guard Derrick Rose could get fed up with his hometown team and look to place elsewhere.
"I think the interesting one coming up in the future is going to be Derrick Rose," Van Gundy said on AM-740's "The Game" in Orlando. "I think Derrick Rose is a great, great representative of our league, and he's a great player. And he's got good players around him, very good players around him, but if (the Bulls) can't get another star there for him is he eventually going to look around and say, 'Hey, I've got to work this out on my own and I've got to find somehow to get somewhere else so that I will have a chance to play with another star.' The league has changed."

"The league has changed," Van Gundy said. "It used to be the stars wanted to sort of have their own team, they certainly wanted good players around them, but now everything's changed. I think it started with the Celtics, bringing (Kevin) Garnett, (Paul) Pierce and (Ray) Allen together and everybody saw that and decided, 'Look, this is the only way we're going to win.'
Rose, 23, grew up in Chicago and was the Bulls' No. 1 pick in the 2008 NBA Draft. He's under contract through the 2016-17 season after inking a lucrative extension back in December 2011. The deal doesn't include any player options so Rose is fully locked in from a contract standpoint.
The early temptation is to write off these comments as excellent sports radio fodder from someone who is both still stinging from an ugly year of free agency fueled drama and potentially positioning himself to be an amazing NBA commentator. But then you start considering the recent track record of stars that have left teams hanging -- LeBron James, Chris Bosh, Deron Williams, Chris Paul, Dwight Howard, even Chicago's Carlos Boozer -- and it's difficult to say that anything is impossible at this point. 
That said, Rose has always seemed to stand apart from his fellow stars. He reportedly was not interested in recruiting James on behalf of the Bulls during the summer of 2010 and he famously stood off to the side during the 2012 All-Star introductions in Orlando, while Howard, James and others danced like goofballs on stage. To this point, Rose has only danced to the beat of his own drum.
Will that change? Chicago has years before that question becomes a legitimate concern. The more pressing issue, of course, is Rose's rehabilitation from an ACL injury suffered during the 2012 playoffs. Logistically, though, Chicago has only committed significant salary to Rose and center Joakim Noah from the 2015-16 season and on. Indeed, if they wanted to use the amnesty clause on Boozer in advance of the 2014-15 season, they could build around the Rose/Noah combination essentially from scratch. In other words, Chicago has a window of at least 1-2 seasons to pull another big name player before Rose enters the final season of his contract.
It's worth mentioning that Rose recently plopped down big money on a Trump Tower condo and that he really seems to relish the role of being the hometown hero. It's fair to call him the last person in the NBA -- along with Kevin Durant -- that you would expect to bounce out of town to ring chase. Five years is a long time, though, and it would become an eternity if James, in particular, starts stacking up championships.
If Rose's Bulls are eliminated by the Heat every year for the next five seasons, would he really not be tempted to take some kind of action if A-list sidekicks can't be located? Loyalty seems to be redefined every year in the NBA but it would take superhuman patience and faithfulness to re-up in Chicago if that's how things wind up going down. Van Gundy is way, way, way out in front of this one, but he's not totally, totally insane for raising the question.
Among the questionable decisions by Jackson was signing Noah to a long-term, lucrative dea...

This Akron store doesn't want their hometown hero to leave again

Milwaukee's star did not get cleared to play for his national team due to a painful knee i...
Ball, the second overall pick in the NBA Draft, is receiving even more hype

Rap mogul supports the vision the outspoken father has for his brand and sons

Deciding who to watch on League Pass can be difficult, but these rankings promise to help