Staying on message, are the Thunder getting passed by?
The Thunder have built a contender based on certain parameters, the biggest being the words 'sustainable success.' But is their organizational identity holding them back?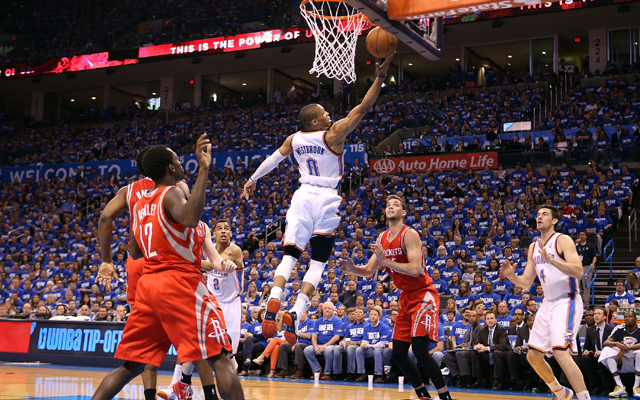 With teams all around the league making moves, signing players and stacking up, the Oklahoma City Thunder have remained oddly silent this summer and, in some ways, seem to be taking a step back.
So it's a simple question: Why?
The Rockets landed Dwight Howard, the Warriors brought in Andre Iguodala, the Spurs added quality bit pieces and the Clippers restocked an already talented bench. The Thunder have done nothing but watch players leave them. For a team positioned to contend for championships, that's seems weird, right? 
The answer can be found in two simple words: sustainable success. Listen to Thunder general manager Sam Presti talk for three minutes, and he'll probably say it six times. I bet when he orders a pizza, he somehow works it in. 
The Thunder have built a unique contender in a very processed, intentional way. When Presti took over the then-Sonics in 2007, he basically mapped out a plan and has stuck to it. Through methodical roster building, savvy cap management and a patient message of draft and development, the Thunder have built not only a roster capable of competing for championships but have done it in one of the league's smallest markets. And through that, the Thunder have kind of become a beacon of hope and opportunity to struggling franchises around the league. 
The Thunder have the core values that they live by, and they don't deviate. And it's hard to argue with the approach. In less than five years, the team has transformed from a 20-win mess into an NBA powerhouse positioned to contend for the foreseeable future. They're the new model for franchise building, replicating what the Spurs have accomplished in San Antonio before them.
There's a little hitch in the plan, though. Over the past two seasons, things have gone from fairytale into NBA business reality. The size of the market has presented difficult challenges, and it started with dealing a 23-year-old superstar before the beginning of the 2012-13 campaign. The trade of James Harden made sense on paper, especially considering, again, the core value and message the team runs on. With Harden demanding max money and the team unable to accomodate that, their hand was forced. But, in terms of common sense, come on. Dealing a superstar like Harden and maybe a super team for the next four years over money management? Sounds ridiculous when you say it out loud.
Fast forward to this summer, where they watched one of the pieces acquired in that deal -- Kevin Martin -- walk in free agency. And what it means is that the Thunder, who remain one of the most elite teams in the league, have to replace their third-leading scorer for a second straight season. 
What happened? "Sustainable success" happened. The Thunder are currently operating over the salary cap but under the luxury tax threshold, meaning they have the mid-level exception to use if they so choose. And they just acquired a $7 million trade exception by shrewdly sign-and-trading Martin to the Wolves. By all apperances, though, they're not all that interested in accessing either exception to add to their current team. At least not right now. Veterans players like Dorell Wright, J.J. Redick, O.J. Mayo and Carlos Delfino all seemed to be quality options for OKC, but they didn't pull the trigger on any of them.
Because in their mind, they're sticking to the plan. Jeremy Lamb, who was the 12th overall pick in 2012 and the key piece in the Harden deal, apparently is about to get a big bump in role. Reggie Jackson, who excelled in the postseason replacing Russell Westbrook, is about to become their new sixth man. The Thunder, stubbornly staying in their lane, are trusting their process of development rather than go the traditional route and splash in the open market. Which is fine and good. Except the Thunder are in an interesting position of having two superstars and a team ready-made for contention. Patience and development are wonderful, but there are windows in the NBA, and the Thunder currently have one. 
Check this: In Presti's tenure, the Thunder have signed only five players to new contracts in free agency: 
Signed C.J. Miles to an offer sheet, Utah matched (2008)
Signed Nenad Krstic, in December, mind you (2008)
Signed

Kevin Ollie

(2009)
Signed

Derek Fisher

(2012)
Signed Derek Fisher (2013)
That's it. Not exactly a Who's Who of free agents there. The plan for them has been to avoid the feeding frenzy that is free agency and instead reserve their money to re-sign the players whom they cultivated in-house. They signed Kevin Durant and Westbrook to max deals and gave Serge Ibaka nearly $50 million over four years. Because of it, they've snuggled up to that dreaded tax line and it has handcuffed them from doing much else. At least because of: a) their market size, and b.) their core values. 
So, again, as their competition stack up their rosters and sign new players, the Thunder have done nothing but use their lottery pick to draft a raw project big, a player who, you guessed it, is something for the long term.
But at some point in the last few months, whether it was the Harden trade or when the Thunder were eliminated in the playoffs by Memphis, the sunshine and happiness that's hovered over all things Thunder and their fanbase have turned into impatience, agitation and a near maniacal win-now obsession. That's the curse of success. Get a taste of it, and it only leads to a desire for more and more and more and more. Instead of understanding the identity and message that the Thunder have operated under the past five years, many are frustrated at the appearance that they're doing nothing. Therefore, there's a perception that the Western Conference is passing the young Thunder by. 
Which is clearly nonsense. The Thunder are still elite. They're still a contender. The Harden trade remains polarizing, especially with the Thunder's unceremonious exit from the playoffs, but so many of those critical of it conveniently ignore the reason that OKC was actually eliminated. It wasn't because the Thunder didn't have Harden; it was because they didn't have Westbrook. With Westbrook and Durant last season, the Thunder won 60 games, finished tops in the West, had a near historic margin of victory and were ranked in the top five in both offense and defense. They overcame not having Harden just fine; they just couldn't overcome not having Westbrook.
(Sidebar: A shame of Westbrook's injury, though, among many things, is that we'll never get an appropriate evaluation of the Harden trade. Had the Thunder been eliminated by the Spurs in the Western finals, we'd know that Presti probably messed up. But had they returned to the Finals, the move would look much more justifiable. But, sadly, we'll never know.) 
So, despite the Thunder doing nothing, ask yourself this: If you're Presti, is there any roster in the Western Conference -- or maybe the entire NBA, outside of the Heat -- that you would trade the Thunder's for? Would you trade the Thunder's roster straight up for the Rockets'? For the Warriors'? For the Grizzlies'? All these moves being made to reshape the landscape of the West are mostly in an effort to catch up to the Thunder, not to leapfrog them. 
At the same time, the Thunder have a culture and a very clear set of core values that they adhere to. They preach sustainable success; they live by long-term development. Those are extremely necessary principles to follow when you're a small market. But at the same time, like any team, the Thunder have a window. Their players might still be young, and envisioning a decade of contending isn't hard to do. But stars get restless, especially when appropriate steps aren't being taken. When goals aren't being accomplished. Durant is under contract three more years, but he's probably not too keen on sustaining success. He's interested in sustaining a championship right now.
But there is a balance to maintain. When you have a special roster in place, you can't simply count your blessings and assume that's enough. There is a certain amount of aggression that has to be shown. Otherwise, you get disgruntled fans and disgruntled players. 
A lot of organizations take a year-by-year approach, attempting to put a product on the floor that season good enough to compete, saying worry about next year, next year. And while that's obviously the Thunder's goal, they're also interested in having that ability in two years. Three years. Four, five, six and beyond. The only-think-about-the-present approach has made for small-market suicide in the past, and it will even more now than ever with the more punitive luxury tax. What Presti and the Thunder understand is that, in order for a small market to succeed, it has to make money. And for it to make money, it has to succeed. There's no built-in TV revenue, no guaranteed money-making infrastructure. If you want to produce in a small market, you need to have a compelling team.
The Thunder aren't in a position to spend big, but they do have a contending roster in place that needs a little tweaking, that needs a little help. (Unless, of course, Lamb, Jackson or both blossom into studs, which, considering the Thunder's history of young players, that's entirely possible.)
There are still options on the open market, and there's still the trade deadline where the Thunder have accumulated assets. That new trade exception could be extremely valuable. The Thunder still believe in their process; they believe in their message. But the question is, if you always keep an eye on the long road ahead, at one point do you start running in place? They've built a contender with a bunch of 24-year-olds doing those things. Which means their summer of team building is more about letting those players grow and improve. And, in the Thunder's case this offseason, the best transaction that they're going to make is bringing back their three-time All-Star point guard. 
So, with an offseason of staying put as others around build and sign, there's an appearance the Thunder are doing nothing. But in the Thunder model, doing nothing is maybe the most appropriate move. 
Trump rescinded Curry's invitation to the White House after Curry said he wasn't interested...

Silver said he was hoping Warriors would get chance to share their views directly with the...

Along with the Thunder, those were the three teams most involved in the Anthony trade talk...
LeBron said he was frustrated by the President's recent actions

A look at the various actors and elements in the latest sensational blockbuster trade in the...

Blockbuster deal doesn't change the Thunder's projected finish in the West