Stephen Curry invited to 3-point contest but may not participate
Stephen Curry has been invited to the 3-point contest, but on the fence as to whether to go or not.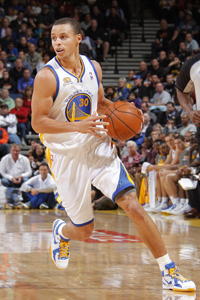 Curry gets invite. 
(Getty Images)
Stephen Curry is a phenomenal shooter, and apparently the NBA agrees. RealGM spoke with Curry over the weekend and the Golden State guard revealed he's been invited by the NBA to participate in the 3-point contest on All-Star Saturday Night. Curry, though, isn't sure he wants to make the trek all the way to Houston just to toss up some moneyballs. 
"It would be a big commitment heading down there for one event so I'm figuring out if I'm going to make that commitment," Curry told RealGM on Saturday night.

Curry is adamant he has moved past his All-Star snub after the coaches failed to select him as a reserve on Thursday. If an injury replacement is needed on the Western Conference team, Curry will almost assuredly be a top option for commissioner David Stern.
(via Stephen Curry Mulling Over 3 Point Shootout Invite - RealGM Wiretap)
Let me translate this for you. 
"When Tim Duncan inexplicably comes down with a 'hamstring injury' and I'm selected as the reserve, I'll totally be in the 3-point contest. But I'm not taking the flight, dealing with the media (skills contest participants have to do the same rotating media session to throngs on Friday everyone else does), and then having to fly back out on my only four days off during the season." 
Which is reasonable. The general consensus is that rest during All-Star weekend is way more important than the honor of being involved, and if you're a snub like Curry (despite there not being a Western pick you can really point to as a mistake), being involved is kind of insulting. 
Still, we hope Duncan gets his rest so Curry can have his spot and participate. Watching him shoot is watching Picasso spread his brush.
The Rockets are gunning for their 10th consecutive win

Victor Oladipo just wants to live his life and enjoy his breakout season with his new team

Keep it right here for all of the news, notes, scores, and highlights from around the Asso...
LeBron has a player option for next season, and is expected to opt out and become a free a...

The Pistons will be looking to snap a five-game losing streak when they host the Celtics on...

Bryant offers some advice for Ball and other rookies about having a sense of urgency in the...