Stephen Curry: 'No disrespect to LeBron, I want to' bring title to Akron
Warriors guard Stephen Curry was born in Akron, and he said he wants to bring a title there before LeBron James does.
• 1 min read
When Golden State Warriors guard Stephen Curry won MVP a month ago, Cleveland Cavaliers forward LeBron James congratulated him by telling reporters, "I think it's great that another kid born in Akron, Ohio, can win MVP." The basketball world collectively responded, "Steph was born in Akron?"
Yes, it's true, there are two sons of Akron in the NBA Finals. And the Warriors superstar wants to be the one to bring a title there, via ABC's Paula Faris:
Akron-born @StephenCurry30 tells me "No disrespect to Lebron, I want to be the 1st to bring the chmpshp to that area" pic.twitter.com/T3R1sFrV1T

— Paula Faris (@paulafaris) June 4, 2015
It's pretty funny that this is a thing. I'm sure the city is totally divided as to which team to root for here -- the Cavalier who has "Akron" tattooed on his shoulder or the Warrior who moved to Charlotte before his first birthday.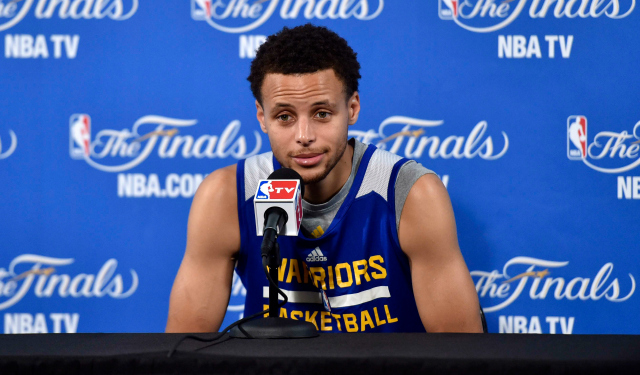 We've got all the scores, highlights and news from all of Sunday's games

The Rockets beat the Warriors 116-108 on Saturday night

The Cavaliers gave up 148 points in their loss Saturday afternoon to the Thunder
Blatt made the comment before coaching in the All-Star Game in Turkey

Is this rock bottom for the Cavaliers because it sure feels like it is

Wade, as he's done so many times in his career, threw it up to LeBron for the thunderous f...