Stephen Curry on coaching change: 'A weird, expedited situation'
Golden State Warriors guard Stephen Curry said on Thursday that he disagreed with the decision to fire head coach Mark Jackson.
• 1 min read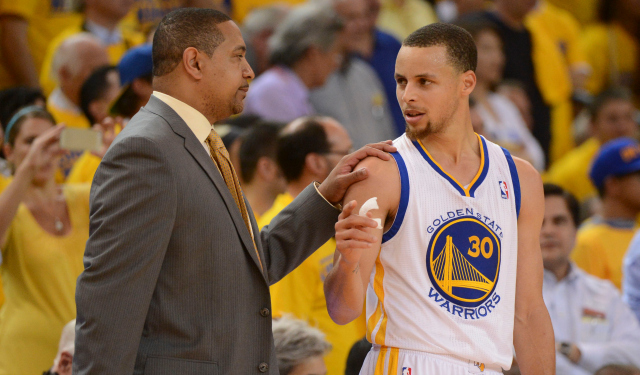 More Offseason Analysis: Coaching changes, news | Free Agency | Draft
After receiving the NBA's community assist award on Thursday, Stephen Curry spoke extensively about the Golden State Warriors organization and its decision to fire head coach Mark Jackson and hire Steve Kerr, via the Associated Press.
In his first extended public comments since Mark Jackson was fired, Curry said Thursday that he disagreed with the decision. He also said the "semi-quick hire" of Steve Kerr was "kind of a shock" to most of his teammates.

"There's no sugarcoating it -- it was a weird, expedited situation that we didn't see coming," Curry said. "And guys are human. You have to be able to adjust to it and have some time to respond. That's kind of what happened. I think we'll be fine once we have a clear picture of what's going on next year."
Curry, who played for Don Nelson and then Keith Smart in his first two years before Jackson came aboard, said that the now-departed head coach was "a sign of stability" for him. He added, though, that he's looking forward to next year under Steve Kerr. This sentiment was similar to statements he'd made before. 
Nothing Curry said will come as a surprise to anyone who's followed the situation in the Bay Area. The star point guard said just a few weeks ago that Jackson "deserves to be our coach," so of course he disagreed with the decision to oust him. He'd enjoyed the best years of his career with Jackson, and by any account the Warriors had a happy locker room. Curry is loyal, but his job now is to work with Kerr. He's right that things changed quickly, but he knows all he and his teammates can do is try to improve with their new coach. 
Leonard's relationship with Spurs also reportedly strained because of how injury has been...

San Antonio hasn't missed the playoffs in 20 years, but the road is rocky this season

Last year's MVP finalist has missed all but nine games this season
The design for the patch is still being worked on

The explosive forward and upcoming free agent is having a career year

Cuban said on Dr. J's podcast that losing is Dallas' 'best option'