Stephen Curry on Love talks: 'I expect the same team to be back'
Finding his voice on and off the court, Golden State Warriors guard Stephen Curry said Wednesday he does not expect Kevin Love to be his teammate next season.
More Offseason Analysis: Coaching changes, news | Free Agency | Draft
LAS VEGAS -- Kevin Love backing out of his Team USA obligation due to uncertainty over his future in Minnesota has done little to stem curiosity over where he will wind up if he's traded this summer.
One place angst does not reside is in the mind of Golden State's Stephen Curry, who said Wednesday he's as certain as he can be that Love will not be his teammate next season.
"It's a good thing that guys are wanted around the league and those conversations are happening," Curry said after Team USA practice. "But there's a reason that we haven't made the trade, and I'm pretty sure guys are pretty confident in that and ready to come back to training camp ready to go."
Curry said he's spoken with teammates whose names have been included at one time or another in the Love trade talks, including Harrison Barnes, who is working this week with USA Basketball's Select Team, and Klay Thompson, who, like Curry, is among the 19 players vying for 12 roster spots on the team that will represent the U.S. at the FIBA World Cup in Spain.
"Those talks probably will still be going on while we're playing here and even while we're overseas before training camp," Curry said. "But at this point, I expect the same team to be back. We were a great team last year. We took the Clippers to a Game 7 on the road in the last two minutes and weren't 100 percent, so hopefully we can be healthy and be a better team next year."
Even in Love's absence, Curry admitted that he's wondered about the possibilities of playing with him.
"I know what kind of pick-and-roll game we probably could've had and this and that, but it's wasted thoughts if nothing happens," Curry said.
Talks between the Warriors and Timberwolves have remained stuck on the notion of including Thompson in the deal, and also on an even more important factor: Timberwolves owner Glen Taylor's indecision over whether he's ready to move forward with trading Love ahead of his 2015 free agency. Earlier this month, Taylor said in an NBA TV interview that his "preference" is that Love comes to training camp with Minnesota and plays with the team next season.
"And I'm sure he will," Taylor said.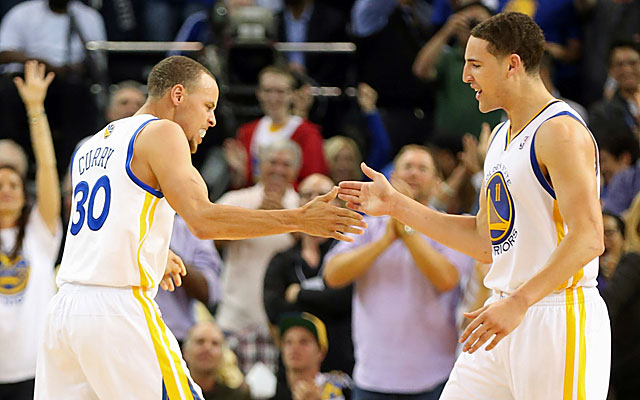 Two league sources told CBSSports.com this week that Taylor remains hesitant to trade Love, still stung by the aftermath of the trade that sent Kevin Garnett to Boston in 2007. The team has won more than 30 games only twice in the seven seasons since.
"I don't think Glen Taylor wants to do the deal," one of the people familiar with the discussions said.
Bulls GM Gar Forman made it clear to reporters Wednesday that he plans to enter the 2014-15 season with the roster he has now.
"We like our team," Forman said as he left Team USA practice. "We have a pretty deep team."
The third team in the hunt for Love, the Cavaliers, are viewed as the favorite, but haven't engaged in talks with Minnesota for about two weeks, a league source said. That, of course, is partly because there hasn't been anything further to talk about since No. 1 pick Andrew Wiggins signed his rookie deal on July 24, starting the clock on a 30-day moratorium during which he can't be traded.
While the growing belief among rival executives is that Love to the Cavs is inevitable, there is "a lot of cat and mouse" involved, a person with a stake in a potential deal said Wednesday. For now, it's all posturing.
What doesn't change for Curry regardless of the outcome is that his stature in the league -- both on and off the court -- continues to skyrocket. Left off the 2012 Olympic team after being a member of the 2010 U.S. national team that won gold at the World Championships in Turkey, Curry is determined to make the 12-man roster that goes to Spain.  He's one of five point guards vying for a spot.
"In 2010, my experience there playing in Istanbul was the highlight of my career and this should be another step, another notch in that trend," Curry said. "Just look at the names that will most likely be on this roster and the opportunity to play against the best competition in the world. It's a great honor and a great privilege. ... I feel very confident I will make the team and have an impact."
Curry said coach Mike Krzyzewski and managing director Jerry Colangelo haven't indicated how many point guards will make the team, though by Curry's estimation it will be "at least four." Aside from becoming perhaps the most feared pure shooter in the NBA, Curry has an edge with his experience playing off the ball.
"There's only one basketball and two spots where we can play," Curry said. "So we've got to be versatile and we've got to be able to adapt."
Among the five point guards in Las Vegas, Curry is the only one with the stature, power and position to influence decisions that will affect all 450 NBA players for years -- perhaps even decades. His time in Vegas also has been devoted to critical off-court matters in his role as an executive committee member with the National Basketball Players Association -- a role that has raised his profile in the league even more.
Curry and another Team USA participant, Kyle Korver, sat on the executive committee that recommended to player representatives that they elect Washington, D.C., trial lawyer Michele Roberts as the union's executive director. Roberts won in a landslide, gaining 32 of a possible 36 votes among committee members and player reps on Monday night -- and becoming the first woman to lead a male pro sports union in the United States.
"It was a critical point for us as a union and as a group of players to kind of take our union back and get it back on the right track after the [Billy] Hunter regime," Curry said. "... We feel like we've got the right candidate, the best person to lead us. And she's going to put together a great team to get us united and get us ready to just grow. And I think we've handled this responsibility well. Hopefully, the future will be less drama-filled than it has been."
Before the union ousted Hunter in February 2013 for his failure to properly manage conflicts of interest and assorted other accusations, the players suffered a bitter defeat in the deal that ended the 2011 lockout. Their guaranteed share of league revenues dropped from 57 percent to 50 percent; further restrictions were placed on free agents; and teams' spending on player salaries was choked off by incrementally massive luxury-tax penalties. At the same time, league-wide revenues have jumped from $3.8 billion to a projected $4.75 billion next season and franchise values have skyrocketed -- capped by the incredible $2 billion sale of the Los Angeles Clippers, the closing of which has been delayed by the NBA's legal battle with disgraced owner Donald Sterling.
After the historic vote, Roberts said she's already begun preparing for the next round of collective bargaining talks with the league -- but would not reveal her strategy.
"It's not a question you direct to me," she said. "My clients are going to tell me where we're going, and I'm going to make sure we get there."
Curry said the union leadership has not yet discussed with Roberts whether the players will opt out of the current deal in 2017, which could lead to another work stoppage.
"That's her job now," he said. "We're going to obviously voice what we want and it's her job to make it happen. With Adam Silver in control now, it hopefully can be a new start for communication between the players and the league. But we're prepared for really whatever when it comes to that CBA negotiation, which is down the road."
Realizing how important those decisions are has been "a good learning experience, for sure," he said.
"We play basketball every day and we understand the business of what we do and protecting what's ours is huge," Curry said. "Being a part of that process has been very eye-opening for me."
Just like his rise to the upper echelon of the NBA, both on and off the floor.
Lakers rookie got his shot to fall, thanks in part to some of the worst defense you will ever...

The singer of the national anthem at the Nets game took a knee at the end

This was the Lonzo Ball people were expecting out of college
Antetokounmpo finished with 34 points, 8 rebounds, 8 assists, and 3 steals, but the Cavs won,...

John Wall is proud of his ability to block shots and thinks nobody at his position has been...

Giannis went at LeBron on a fast break, but LeBron won the matchup