Stephen Curry talks Steve Kerr, Mark Jackson
Curry on the coaching change: "It's difficult, but it's good to know what the next direction is."
• 2 min read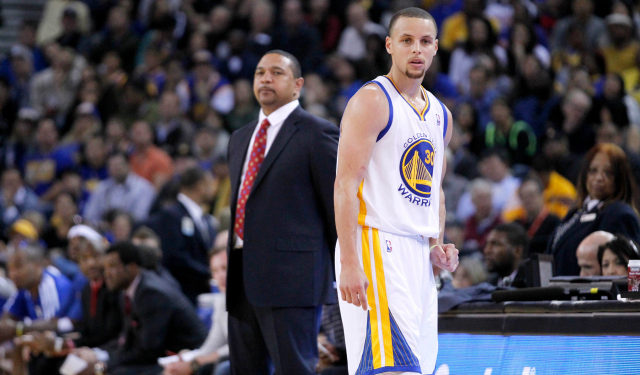 More NBA: Season Awards | Grades: East | Grades: West | Seasons in Review
Golden State Warriors guard Stephen Curry was a vocal supporter of Mark Jackson before the Warriors fired him as head coach. Curry had known Jackson since his father, Dell Curry, teamed with Jackson as a member of the Toronto Raptors in 2000-2001. He has had his best years under Jackson, in terms of individual and team success, and said that the speculation about his job security was unfair.
Now that Jackson is gone and Steve Kerr has been hired to coach the team, Curry told the Bay Area News Group's Marcus Thompson that he appreciated Kerr calling him before the news was made public. 
"It's difficult, but it's good to know what the next direction is," said Curry, who hasn't spoken publicly since Jackson was fired. "It's still kind of stressful knowing how it all went down."

…

"I just want to see him build that relationship with the players," Curry said. "To be able to get the most out of us. To challenge us. Pushing us to a higher level. And I don't think he'll have a problem with that. We're in good hands. I'm not worried about that. He just has to develop his coaching style. I agree with the decision (to hire Kerr)."
The first-time head coach was given a five-year, $25 million deal. Curry told Thompson that it would take time to come to terms with the change, but he thinks the front office is focused on winning and is still in a good spot. He also said that it was "frustrating" to hear Jackson being portrayed negatively.
"I've heard it wasn't as good as it seems," Curry said. "But that's so far from my perception of coach and the reality I dealt with every day. From my dealings with him, I just don't see him that way.

"I heard a lot of different explanations and reasons. I heard the positions on why management and the front office wanted to make a change. I can't say I agree agree with all of them, but I know what they [were] thinking and I understand where they are coming from."
Curry also told North Carolina radio station WFNZ 610 AM The Fan that "it's exciting" to know the team is in Kerr's hands and that it will be "fun to kind of grow with him," via the Bay Area News Group's Diamond Leung.
For Golden State, one of the risks of letting go of Jackson was alienating a locker room full of players who played hard for him. In the short term, the way it happened might bother them, but Curry and company have no choice but to embrace the new situation. 
We've got all the scores, highlights and news from all of Sunday's games

The Rockets beat the Warriors 116-108 on Saturday night

The Cavaliers gave up 148 points in their loss Saturday afternoon to the Thunder
Blatt made the comment before coaching in the All-Star Game in Turkey

Is this rock bottom for the Cavaliers because it sure feels like it is

Wade, as he's done so many times in his career, threw it up to LeBron for the thunderous f...