Stern deputy Silver says NBA will review role of divisions
Could the NBA get rid of divisions entirely? And if we're going to make changes, why not go all the way and ditch conferences, too?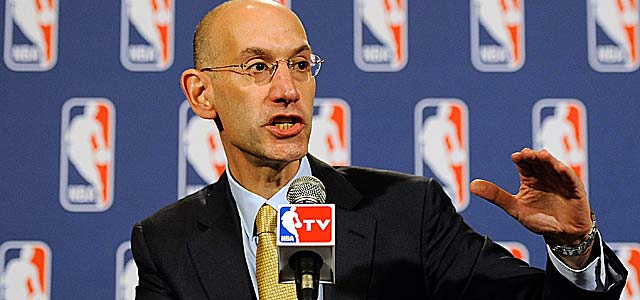 NBA deputy commissioner Adam Silver, who is set to take over for outgoing commissioner David Stern in February, said during the launch of the NBA's XM Radio Station on Monday that he's open to the idea of revamping or eliminating divisions from the NBA play format. 
Addressing the NBA's weak Eastern Conference on Sirius XM Radio's new NBA channel, deputy commissioner Adam Silver said Monday the league's competition committee will examine if divisions have outlived their usefulness.

"One thing I have learned from David [Stern] over all those years ... is every day we should wake up and take a fresh look at everything we do. Divisions fall into that category," said Silver, who will take over for Stern as NBA commissioner in February. "Historically, based on geography in terms of ways to schedule and convenience of travel, the goal was to enhance rivalries and I'm not sure if that's still what's happening.

"That's something I'm sure the competition committee might when they next meet will be taking a fresh look at it."
via Adam Silver: NBA will consider getting rid of divisions.
There has been a push to remove divisions for years, but it was renewed early this season with the putrid state of the Atlantic Division setting up the possibility of a fourth seed with a horrible record. The Boston Celtics would be the No. 4 seed in the playoffs if they began now, with a .455 winning percentage. 
Conferences would be even harder to scrap, but that would make for a better league. Taking the top 16 teams, regardless of conference, seeding them and commencing play would be difficult with travel, but given the advances in technology over the past 30 years and the fact that teams fly private planes everywhere, you would think they could handle it. The scheduling balance is the bigger question, but if you were to ask more owners if they would rather play each team roughly the same number of times or risk missing out on the playoffs behind a far-inferior team in another conference, most owners would agree, you would have to think. 
Either way, the big takeaway here is another example of Adam Silver being open to changes that David Stern has not been (Stern's comments reflected a dismissal of the issue as important), and the possibility of significant changes in the NBA format under his tenure as commissioner. 
Now if we can just get the schedule shortened ...
A look at the context of the schedule and who plays who when, and how far they travel during...

Durant took on rapper Lil Dicky and actually might have lost

A report that James would once again be leaving Cleveland made the rounds on Wednesday
Known for his 'take that for data' rant, the Grizzlies coach touched on a number of important...

Wade's days with the Chicago Bulls appear to be numbered

Misty Suri will reportedly keep his job with the New Orleans Pelicans