Stern: 'Not optimistic' Sacramento arena deal can be saved
NBA commissioner David Stern said that he is "not optimistic" that a deal for a new arena in Sacramento can be saved.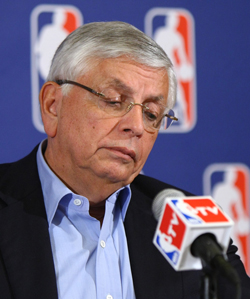 David Stern said the Sacramento arena deal might be dead.
(Getty Images)
Did this thing just blow up?
Less than two months after the
NBA
, the city of Sacramento and the Maloof famiy, owners of the Kings, appeared to have a deal in place to construct a new arena in Sacramento to house the team, NBA commissioner David Stern said Friday that he is "hopeful but not optimistic" that the agreement can be salvaged after the Maloofs have apparently had second thoughts.
"I am extremely disappointed, on behalf of both the Maloofs and the city of Sacramento, but I think that there's nothing further to be done," Stern said, speaking from the St. Regis Hotel in New York City. "This is a situation the Maloofs will have to make judgments on and the city will have to make judgments on. I think we've done as much as we can do." 
In a letter published on Thursday evening
, Sacramento Mayor Kevin Johnson called on the Maloofs, owners of the Kings,  to honor an agreement reached during 2012 All-Star Weekend in Orlando.
"The best - and only - way to demonstrate that commitment is to honor the 'fair deal' as all other parties have done," Johnson wrote to the Maloofs. "Your handshake is your handshake. Your promise is your promise."
On Friday morning, Kings co-owner George Maloof
said the deal required more negotiation
or it was dead in the water during an emotional press conference in New York that was televised life.
"If the mayor says he's not negotiating then he killed the deal, it's over," Maloof said. "It's over."
On Friday afternoon, speaking from the NBA's Board of Governors in New York, Stern addressed the latest twists and turns.
"I'm extremely protective of the Maloofs' rights to do what they did as owners, I'm sorry the parties weren't able to make a deal," Stern said. "I know understand that there's a meeting of some kind going on. I would be hopeful about its outcome but not optimistic in light of where we are at the present time."
Stern said that the Maloofs' change of heart was financially motivated.
"They recognized that it was necessary to bring in a third party, AEG, because we needed their funds to finance," Stern said. "Together with their existing debt load together with the funds it was necessary for the NBA to advance came with a cost that further burdened the team. They ultimately decided that this was not a transaction they wanted to go forward with."
Stern said the Maloofs were not doing anything wrong by stepping back from the agreement reached in February.
"We had an agreement in principle, a framework, a deal, you can call it anything you want," Stern said. "In my view it was always subject to any party saying they didn't want to do it. It was always non-binding. I think it's fair that the Maloofs to say they don't want to do it. If they had done that a little simpler, a little earlier and a little more directly, it could have saved a lot of angst and trouble."
Stern pointed out that the financial basics had been agreed to in the proposed deal but that there were still a number of unresolved points of discussion, hence his use of the term "non-binding."
"They had agreed upon all significant financial terms but there were many other issues left open for the good faith negotiation that was going to occur," he explained. 
Regarding George Maloof's statement that perhaps the Kings would renovate Power Balance Pavilion, Stern said it was not a matter for the league. 
"If they choose to do that, that's up to them," he said. 
He also noted that he expects the Kings to play the 2012-2013 season in Power Balance Pavilion.
"I believe them when they say they want to stay in Sacramento," Stern said.
Despite the frustrating news, Stern praised the fundraising efforts of Johnson and fan support in Sacramento.
"We asked the city of Sacramento to step up and that city responded in an extraordinary way," he said. "They've always supported NBA basketball and they couldn't have supported it in a finer fashion."
The Cavaliers are reportedly very close to acquiring the 10-year veteran point guard

Kobe Bryant is now an Oscar nominee. Here's how you can watch his short

Players such as Metta World Peace, Baron Davis and Nate Robinson have signed on
The guard is doing everything he can to make a name for himself (and making Cavs fans sweat...

Bryant is getting recognition for his off-the-court exploits in retirement

Our advanced computer model simulated Tuesday's Spurs vs. Cavs game 10,000 times