Steve Kerr remains interested in the Knicks job but there are concerns
Former Spurs and Bulls shooter Steve Kerr will interview for Knicks job most likely, but has reservations about distance from family and toxic environment.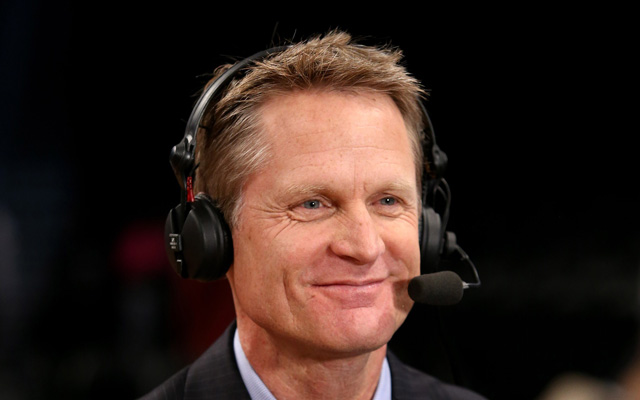 More Knicks: Woodson fired | Berger: Kerr best fit?|Doyel: Phil should coach
With the firing of Mike Woodson, immediately news started to shift about the Knicks' replacement for head coach. Steve Kerr, based off his knowledge of the Triangle offense and his close relationship with Phil Jackson, is considered the leader in the clubhouse. 
Ken Berger of CBSSports.com reported Monday: 
To no one's surprise, the first coaching search of Phil Jackson's executive career began Monday when the Knicks fired coach Mike Woodson and his entire staff.Steve Kerr, please pick up the white courtesy phone ...

It has been known for weeks that Jackson is interested in approaching one of his favorite former players to measure his interest in leaving the TNT broadcast table and taking a stab at coaching the Knicks. That desire has been complicated by two factors: 1 Kerr having a job, and 2 the Knicks having a coach.
via With Woodson gone, Steve Kerr could be best option for Knicks - CBSSports.com.
So where's Kerr at on this? Well, first, here were his comments on XMRadio Monday. 
"I do anticipate talking with Phil Jackson at some point.  But when that time comes it will come but for now there's really not a whole lot to talk about... We've (Phil Jackson and I) remained close over the years, since he retired from coaching, even while he was coaching the Lakers, I would often have dinner with him on the road if I was playing for another team even, just to catch up.  I went to his daughter's wedding a few years ago in Montana.  We've been very close.  And so I've known for years that Phil wanted to do this - not necessarily in New York, I thought he was going to end up in Seattle last year if the Kings had moved to Seattle to become the Sonics – but I knew that he was done with coaching [and] that he was more interested in being a team president and building a franchise.  And I think he'll be very good at it.  It's going to be very interesting and obviously my name is being thrown around.  I do anticipate at least being part of the conversation and we'll see where it all goes."
So what are the reservations? Bleacher Report reports that Kerr would prefer to stay closer to family on the West Coast: 
Kerr is eyeing several potential openings around the league, according to sources, and he would prefer to stay on (or near) the West Coast. Kerr lives in San Diego, and he has a daughter attending college at Cal, in Berkeley. Contrary to a New York Post report, Kerr has not asked TNT for schedule flexibility in order to take the Knicks job, according to two sources with Turner Sports. (Disclosure: Turner also owns Bleacher Report.)
via What's Next in Phil Jackson's Knicks Housecleaning, and Who Might New Coach Be? | Bleacher Report.
The New York Daily News reports that Kerr is aware of how toxic the Knicks' situation is and has some concerns about it: 
What concerns Kerr, according to a source, is whether he can be successful at Madison Square Garden, a place that has destroyed careers and ruined reputations under Garden chairman James Dolan. What Kerr wants to know is why a franchise with so many resources has won just one playoff series in 14 years and why so many before him, including Hall of Fame coaches Lenny Wilkens and Larry Brown, have failed.

"Steve will not jump into this without knowing exactly what he is getting himself into," said a person close to Kerr, the former Suns GM who is now a broadcaster for Turner Sports. "He'll talk to the right people. If this is the job for him, he'll do his research."
via Source: Steve Kerr interested in Knicks job, but wary of Garden culture - NY Daily News.
I would still say the trends lean towards Kerr still taking the job. Beggars can't be choosers and Kerr has been indicating in media appearances the past two months that he's ready to begin coaching. The Knicks will offer him a lot of money, he has the trust and protection of the president of basketball operations in Jackson, and he won't be starving for star talent even if Carmelo Anthony leaves in free agency. 
The move should happen pretty quickly, but we'll have to keep an eye on any other opportunities that were to come available. 
Have the Clippers reportedly found their next GM?

The NBA stayed to the point in their response to the Greek basketball federation

The Pacers believe the Lakers tampered with Paul George before they traded him
Among the questionable decisions by Jackson was signing Noah to a long-term, lucrative dea...

This Akron store doesn't want their hometown hero to leave again

Milwaukee's star did not get cleared to play for his national team due to a painful knee i...