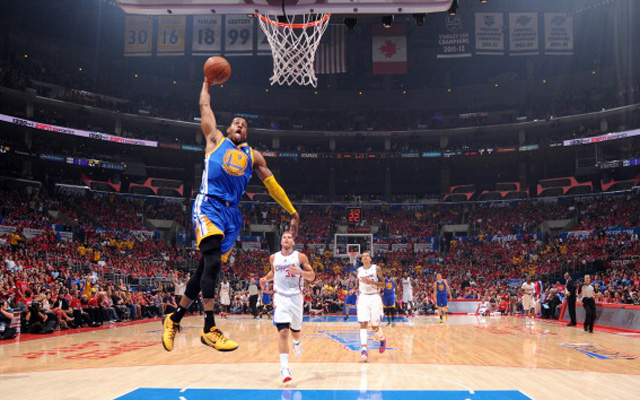 Golden State Warriors head coach Steve Kerr is apparently playing with the idea of starting Harrison Barnes over Andre Iguodala, in order to give the bench a playmaker with Shaun Livingston sidelined with a toe injury. 
Steve Kerr said he may end up using Iguodala off the bench early in season (starting Barnes) for playmaking ability while Livingston is out.

— Mike Trudell (@LakersReporter) October 13, 2014
It's true that Iguodala's a phenomenal playmaker, but whether the veteran will be OK with a bench role is another question. Additionally, you need Iguodala on the floor for the defense that everyone seems to think Klay Thompson plays. Furthermore, putting Barnes in th starting unit is sure to draw ire, as opposed to playing Draymond Green at the three despite his size. (Many fans and adjusted plus-minus fanatic already want Green starting over David Lee). 
Removing Iguodala from the starting unit also takes away from that unit's offensive efficiency. Iguodala spread the floor from the weakside. Stephen Curry and Klay Thompson will still ensure a top-five ranking along with Andrew Bogut (and Lee) but Barnes' offensive inconsistency could give the Warriors the same issues that the Clippers face with Matt Barnes, where the defense funnels the ball to Barnes and forces him to beat them. 
Either way, it's surprising to hear a new coach say he's considering benching one of his best players, even if it is just for offensive balance.