Steve Kerr wants to be an NBA coach; Knicks his first job
Steve Kerr confirms that he has a desire to be an NBA coach. Question is, will the Knicks be his first job?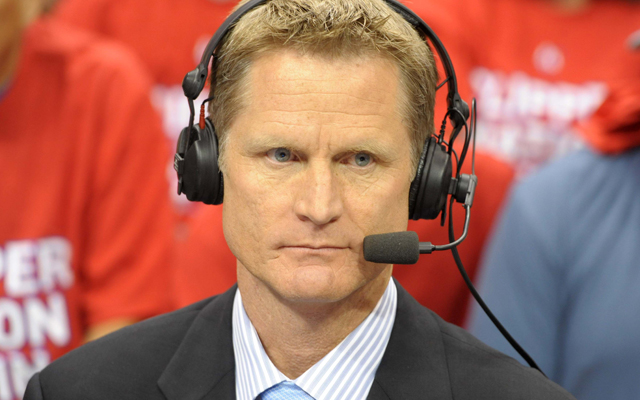 Steve Kerr has been an NBA champion. He's been an NBA general manager. And he's been an NBA broadcaster. 
But now he wants to be an NBA coach. 
Via Adam Zagoria of The Knicks Blog, Kerr confirmed his interest in coaching after a few other reports linked his name potentially with the Knicks. However, Kerr wouldn't comment specifically with regards to the Knicks, because they currently have a coach in Mike Woodson.
"Yeah, I've said that publicly many times but, I'm not going to even go down that path for obvious reasons," Kerr told The Knicks Blog on Tuesday.  
"I think people just connected the dots," Kerr said. "I think Bill Simmons said something the other day on the post-game show [on ABC's coverage of the Bulls-Heat game] that kind of stirred the pot and all of a sudden I show up in New York for NCAA Media Day. It's total speculation at this point."
The talk stems from the rumors circling around Phil Jackson taking a role within the Knicks front office. Reportedly, Kerr would be a top name for Jackson if he were to relieve Woodson and need a new head coach. 
Kerr, who has no previous head coaching experience, was asked about how he'd coach a team, particularly one without a draft pick and limited cap space cough cough, the Knicks.
"Well, again, because I've been thrown into the mix, I don't want to be quoted on all that stuff," he said. "It's sort of unsavory in a lot of ways for me because there are people's jobs at stake."
There has to be some hesitation in giving Kerr such a high profile job for his first, but then again, with the recent success by Mark Jackson and Jason Kidd, two coaches without previous experience, there's a precedent there already.
Kerr played for Jackson in Chicago for five seasons, winning three championships together.
Oklahoma City has reportedly offered the MVP a five-year extension worth over $200 million

The big man was a big part of the Warriors' championship run last season

The Cavs jokes were out in full force after Golden State reportedly agreed to sign Antonius...
New York seems to be at the top of Irving's list of preferred destinations

Is it just a normal workout, or is LeBron continuing his recruiting efforts?

Chris Bosh answered on the spot about the LeBron James and Kyrie Irving situation