Steve Nash hasn't called Byron Scott back, could be traded
Lakers want veteran guard to give counsel to the youngsters, but they might also move them. A first step would be him calling them back.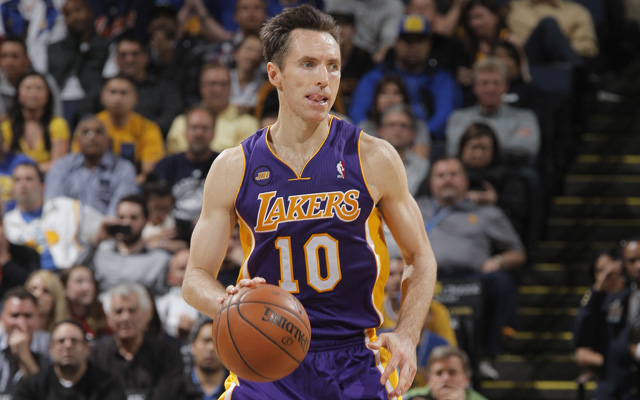 The Lakers' woes continue. Kobe Bryant was ill before their depressing 93-80 loss to the Spurs on Friday. The team is a mess and there's no hope in sight. And Steve Nash of course is lost for the season. 
But the LA Daily News reports that the Lakers' situation is fluid with Nash, that they would like him to play as a mentor for the young team. Unfortunately ... he won't call his coach back. And beyond that, there's an alternative for the Lakers on the horizon:
"I would like to (hear from Nash), but I don't know," Lakers coach Byron Scott said. "I gave him a call, but I haven't gotten a return call. So we'll see."

Scott conceded he would have "definitely" returned any of his coaches' calls immediately during his 14-year NBA career. But Scott maintains he's "not angry at all" he has not yet heard from Nash, who is still under contract with the Lakers for $9.8 million. The Lakers have allowed Nash to keep his distance and has deferred to him on whether he would like to be around the team's training facility.

The Lakers have applied for a disabled player exception because of Nash's absence, which would be worth about $4.9 million. Assuming the NBA approves it, it is unlikely the Lakers will use it to sign a player through free agency or trade. But the Lakers could seek to trade his expiring contract.
via Los Angeles Lakers' Byron Scott has not heard from Steve Nash.
The problem with moving Nash is that expiring contracts have lost a lot of value under the new CBA. Most teams have cap room, and if they don't, they will under the new 2016 CBA adjustments. So despite his contract being nothing but free weight that can be shed (he can't mess with a rotation because he's not playing), there's not a lot of value there.
Is there anything to the fact Nash hasn't called his coach back? No. He's barely played for Scott, it's not like they have a deep relationship. Nash is smart enough to know the realities of the situation when it comes to where his future with the Lakers lies, and in truth, he's probably done for his career. You can hardly fault the guy for not wanting to talk to the coach of a bad team about playing the wise old grandpa. He would be invaluable, but Nash has never seemed all that interested in a coaching role.
We'll see if they can find somewhere that wants the cap room. Wouldn't it be great if he was traded back to Phoenix to retire there?
George will be an unrestricted free agent in the summer

Durant said playing good basketball is more important than ending up with the best record

Follow along with all the news, notes and highlights from All-Star Saturday night
The 13 finalists will find out if they have been selected on March 31

Casey, who has spent six years coaching in Canada, doesn't understand why the gun laws are...

Galin Dragiev is SportsLine's No 1. NBA expert and locked in a pick for Team LeBron vs. Team...