Steve Nash heading to Lakers in a stunner that reverberates from coast to coast
Steve Nash will team with Kobe Bryant in a move that gives the All-Star point guard the best chance of his career to win a title after a stunning sign-and-trade Wednesday sending him from the Phoenix Suns to the Los Angeles Lakers.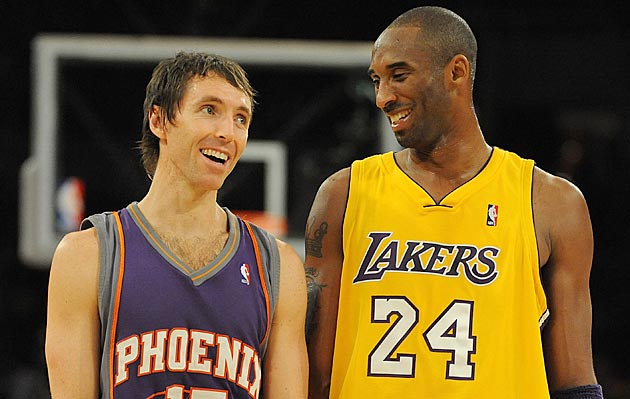 Imagine the Lakers with these two guys together. And what if they could add Dwight Howard? (Getty Images)

In a stunning move, the Suns sent Steve Nash to the Lakers on Wednesday in a sign-and-trade that reverberated from coast-to-coast in the NBA -- not to mention north of the border.
Nash, 38, will team with Kobe Bryant in a move that gives the All-Star point guard the best chance of his career to win a title. It also gives Bryant a Hall of Fame point guard to get the Lakers' fitful offense organized after a year of struggles following the departure of 11-time champion Phil Jackson and his triangle offense -- and eases the pressure on Bryant to be the sole motivational and leadership force for a talented but enigmatic team.
The deal for future draft picks and cash came at the expense of the Toronto Raptors, who had relentlessly pursued Nash on the open market, and the New York Knicks, who were trying to lure him with their own sign-and-trade proposal.
Nash fits into the $8.2 million trade exception the Lakers received for dumping Lamar Odom on the Mavs before last season.
Bryant will play alongside the most prolific offensive point guard of his career, and the Lakers once again become legitimate title contenders as Bryant chases a sixth championship to equal Michael Jordan in the twilight of his career. But even as the mind blurs at the thought of Nash distributing to Bryant, Andrew Bynum and Pau Gasol, the deal raises so many more questions.
Would the Lakers venture deeper into trade talks with Orlando for Dwight Howard, or put their trust in Bynum -- whose immaturity rivals that of Howard but whose offensive skills far exceed those of the Magic All-Star? Will statistical paradigms explode with the possibility of Nash, the most skilled playmaker of his generation, making plays for Gasol, as gifted an offensive big man as there is in the league?
Either way, Bryant is said to be understandably ecstatic about the move, according to a person who has been in contact with the five-time champion. Nash will get the Lakers' offense reorganized, and his unselfishness and steady leadership will lift some of the pressure off Bryant to fuel what -- at inopportune times -- has proved to be a group whose motivation has fallen short of its talent. It'll be a good cop-bad cop thing with Nash and Bryant, to be sure. But the motivational burden to propel the Lakers forward, an increasingly daunting task for Bryant, won't be his alone anymore.  
Another ripple effect seems certain: After the Nets used their cap space to acquire Joe Johnson from the Hawks and re-sign Gerald Wallace, resulting in a five-year commitment from point guard Deron Williams, the Knicks would seem to be the favorites to land another Hall of Fame point guard, Jason Kidd. The Mavs, who chased Williams and also plan to pursue Knicks restricted free agent Jeremy Lin, also will be in the mix for Kidd.
So in the span of 48 hours, NBA stars have aligned on opposite coasts. The Nets loaded up on star power for their move to Brooklyn next season, and the Lakers went from being a stale, predictable offensive team to having one of the most creative, play-making point guards ever to play. Though he has endured back trouble, Nash remains an impactful playmaker who will breathe new life into the Lakers' offense, even at age 38.
A significant motivating factor for Nash was finding a team where he could be close to the children he had with his ex-wife. Nash followed through on that desire, accepting about $10 million to $12 million less from the Lakers than he could've gotten from the Raptors in a return to his homeland of Canada.
"I will never forget this gesture," Nash said in a statement thanking the Suns for sending him to a place where he could win and be close to his family. "Above and beyond."
Nash's surprising outcome, and his gratitude for it, explained why Suns front-office executives had been dismissive in the past 48 hours of the possibility that Nash would wind up with the Knicks via a sign-and-trade. The notion of Nash landing in New York, however, had gained so much traction in league circles -- outside Phoenix, anyway -- that the Raptors went so far as to sign Knicks guard Landry Fields to an offer sheet to block New York from using the restricted free agent as a sign-and-trade chip.
As for the Suns, they get the Lakers' first-round picks in 2013 and 2015 and second-round picks in '13 and '14. That, along with $3 million cash, made it easier for Suns owner Robert Sarver to send Nash to a Western Conference rival. Money talks in the NBA, and so does cheap labor needed for rebuilding.
The Nash move was another symptom in an NBA player-movement system that has showed no signs of changing. After four days of the first full-fledged free agency period under a new collective bargaining agreement that was supposed to level the league's competitive playing field, it's hard to find any evidence of that. Big stars going to big markets, just as they always have.
Just as they always will.
The Bulls lead by three with 10 seconds left but lost 116-115

Larry Nance Sr. starred for Cleveland from 1988-94

The hotline comes in the wake of the 'Sports Illustrated' investigation into the Dallas Ma...
Giannis, who spent last weekend in L.A. for the All-Star Game, says he loves 'low-key' Mil...

We have all the scores, highlights and news from the first day back from the All-Star brea...

Smart, set to return Friday, said doctors told him he was very lucky that the glass did not...