Steve Nash on considering retirement: 'Not yet'
Steve Nash says he's not considering retirement quite yet.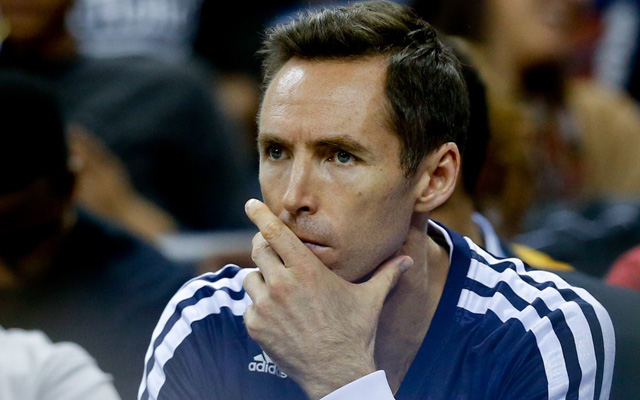 With Steve Nash recently turning 40, and battling injuries while playing for a mostly hopeless team this season, the natural assumption is that he'll finally consider hanging up the sneakers. 
But he says he hasn't thought about it yet.
"Not yet," Nash said via ESPNLA when asked if he has thought about retirement. "We'll see. But I still enjoy being back there on the court so much that this [nerve irritation] is nothing compared to that feeling of being one of the guys and being on the team and trying to win games. So, it's still well worth it to me."
Like Nash said, retirement is permanent, unless you're Michael Jordan or Brett Favre, but mostly, when you're done, it's done. And for a basketball player like Nash, even though he's had a long, incredible, Hall-of-Fame-level career, there's still more to be done. 
But he's been fighting injuries the past two seasons, with his troublesome back and now recent leg injury. 
"I would say it's probably going to flare up from time to time," Nash said of his injuries. "I don't know if I'll ever [get over it]. I'll probably deal with this for the rest of my life in some way."
Another reason not to retire: Nash has one year left after this season on his contract, paying him $9.7 million. That's a pretty good reason to grit your teeth and play on. Just call it a solid retirement plan.
Golden State led by 17 on ring night, but they missed Draymond Green and Andre Iguodala in...

Durant's shot is too late and the champs lose; Hayward's awful injury overshadowed Cleveland's...

Chris Paul sat out the fourth quarter of the Rockets win due to an apparent knee injury
Durant couldn't quite get the shot off in time, and the Rockets prevailed

Draymond Green walked off the floor limping and rubbing his knee in the third quarter

Golden State raised its second banner in three years. Now they start their run for another