Still no timetable for Andrew Bogut's return
Andrew Bogut is still a ways from returning, and there's no timetable for his return.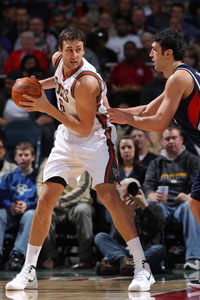 Bogut's still working to recover.(Getty Images)
Stephen Curry has been shut down for the preseason, but the Warriors have another injury problem just as big. Not only has Andrew Bogut not appeared in a preseason game, but he hasn't been cleared for even a scrimmage. From a Warriors press release:
Warriors center Andrew Bogut met with Dr. Richard Ferkel at the team's practice in Los Angeles earlier today (October 20) for a scheduled follow-up consultation on Bogut's surgically repaired left ankle.

Following the examination, Dr. Ferkel concluded that Andrew is continuing to make progress on the rehabilitation schedule that was outlined immediately following his surgery (performed by Ferkel on April 27, 2012) and that there have been no setbacks. While the results of today's examination were positive and Bogut remains on his rehab schedule, the exact date of his return to full basketball activity has not been determined.

Bogut and the team are not setting any deadlines or time tables and the plan remains as it has been from the outset: Bogut will return to action when his ankle is 100%.
The Warriors need Curry as much as Bogut, but for different reasons. Curry's shooting ability and passing acumen is what will open up the shooters on the outside and get David Lee pick and roll opportunities. Just as important, it puts starter-capable Jarrett Jack into the reserve unit, giving them an advantage there as well. 
But there's no player who can even reasonably replace Bogut defensively on the Warriors. They want to specifically transition to a slower, more defensive team that goes through the post. Bogut is crucial for that. The Warriors haven't ruled out his return for opening night, but there's also been no indication that he specifically will. He has to get back to full basketball and scrimmage before they can start talking about his conditioning and game shape. 
The Warriors have a window opening with Dirk Nowitzki and Kevin Love's injuries to get a jump on the playoff race. But the question of their own health status continues to loom over their season. 
Oklahoma City has reportedly offered the MVP a five-year extension worth over $200 million

The big man was a big part of the Warriors' championship run last season

The Cavs jokes were out in full force after Golden State reportedly agreed to sign Antonius...
New York seems to be at the top of Irving's list of preferred destinations

Is it just a normal workout, or is LeBron continuing his recruiting efforts?

Chris Bosh answered on the spot about the LeBron James and Kyrie Irving situation