Struggling Clippers starting to grow weary of Blake Griffin's absence
At first, the Clippers were getting by just fine with Blake Griffin sidelined. Yet a recent slide suggests this is a team that badly needs its star back, and soon.
Back in December, when the Clippers were trying to figure out who they were, Doc Rivers began noticing some subtle signs of an identity forming. An identity he liked.
He needed more defensive toughness out of his second unit, and was starting to see it. He needed shoulders and heads to stop slumping when the team hit a stretch when shots weren't falling -- the kind of stretch that every NBA team faces, every game. (Except the Warriors.)
"It's almost like a repeat of last year," Rivers told CBS Sports.
Last year was another year when this star-studded Clippers team fell short in the postseason. After a defining first-round victory over the Spurs in a dramatic seven-game series, the Clips were upended by the Rockets in the second round, making it the fourth straight season the Chris Paul-led Clippers had failed to advance beyond the first or second round. (Something Paul, 30, has never done, by the way.)
How far are the Clippers going this year?
"They need to make the conference finals, right?" one rival executive said, properly summarizing the expectations that come with all that talent.
The Clippers almost lost one foundational piece, DeAndre Jordan, during free agency. A core that sometimes lacked cohesion came together and rescued him from Dallas, persuading Jordan to back out of his verbal commitment to the Mavericks. 
Then came Christmas Day 2015, the last time Blake Griffin played basketball. He suffered a partially torn quadriceps that night against the Lakers, and then sustained a malfunction of the frontal cortex when he punched an equipment guy and fractured his hand in Toronto during a January road trip.
Griffin has been out ever since, and his absence is starting to weigh heavily on the Clippers.
Though they're an impressive 25-11 (.694) without Griffin, they've lost four of six and are beginning to show signs of slipping back into old habits. The reserves who'd been so effective in Griffin's absence were absent themselves Tuesday night in a 108-87 loss in San Antonio. Coming on the heels of a non-competitive showing in a 114-90 home loss to Cleveland on Sunday, the Clippers are now 2-11 against teams with a .600-plus winning percentage.
"We don't look at the big picture right now because we're not good enough to do that without [Griffin]," Rivers told reporters after the loss to the Spurs.
It's been a poorly kept secret around the Clippers that it now appears Griffin won't be back until sometime in April. But a person familiar with his rehab told CBS Sports Wednesday that Griffin is going hard in his workouts and getting closer to a return.
"He's really close," the person said.
Griffin has yet to be cleared to practice, though, and even when he is, he'll have to serve a four-game suspension over the incident with the equipment manager.
Any positive vibe that the Clippers took out of last season's disappointment is a distant memory, but to recap: Surmounting the Spurs in a playoff series was a seminal moment for a franchise that had been a laughing stock for decades. There were significant stretches during the Clippers' ill-fated 14-game playoff run when Griffin was the best basketball player on the planet; he averaged 25.5 points, 12.7 rebounds and 6.1 assists while shooting 51 percent from the field. He was unstoppable, and made everyone around him better.
By the way, happy birthday, Blake! Griffin turned 27 on Wednesday.
But his absence for the past three months has begun to take its toll -- to say nothing of the challenge of integrating him back into the flow once he returns.
"We've been playing a certain way for a couple of months," Jamal Crawford said, hinting at yet another change in approach that will accompany Griffin's return.
Are the Clippers better off without Griffin? Clearly not. They're better off without Josh Smith and Lance Stephenson, but that's another matter entirely. 
But here is the reality for a team that was built to win a championship around Griffin, Paul and Jordan: They still don't know who they are, yet they know exactly who the competition is. 
"With Golden State and San Antonio in the way," the rival executive said, "it's tough."
To say the least.
However the rest of this season and postseason end up, Griffin and Paul both will be heading into walk years in 2016-17. They both have player options for 2017-18, and with the cap rising to $108 million that summer, they'll almost certainly exercise them.
If Griffin returns from his indiscretion and saves the season, propelling the Clippers into the Western Conference Finals for the first time, there will be reason to believe that this core group, with some tinkering around the edges, can contend for a title before the window closes.
If not, how do Rivers and his staff view a season as disjointed as this one? With only about $8 million in cap room this summer, the Clippers will be at a severe disadvantage at a time when close to two-thirds of the league will have room for a max player.
If Rivers & Co. decide that a roster shakeup is needed, the only way to do it will be through a trade. And given that the Clippers have three $20 million-plus players, by definition, it would have to be a blockbuster. With all that room on the market, there will be plenty of buyers.
Their most tradable piece? You guessed it: Griffin.
So much has been riding on the Clippers' ability to survive without him, and they've mostly passed the test. I would argue that even more is riding on what the Clippers are able to do once Griffin comes back.
It isn't just a mangled hand, but a tangled web of intrigue that Griffin has woven for these Clippers. And it's time to wonder how much longer they can keep it together without him, and more important, what happens when he returns.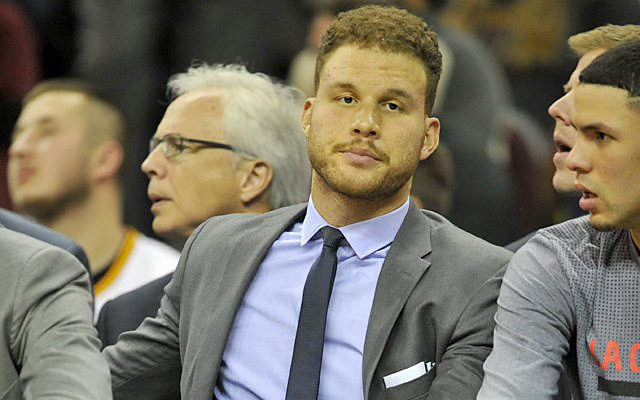 An old rivalry is reignited between LeBron James and the Cavaliers and John Wall and the W...

SportsLine's Mike McClure, a DFS pro with more than $1M in winnings, gives optimal lineup...

LeBron had 29 points, 11 rebounds, and 10 assists in the Cavs' 109-100 win over the Jazz
The montage showed Carmelo's best Knicks moments before playing the Thunder game

KCP can't leave California for 25 days due to the terms of his pleading guilty to a misdemeanor...

Keep it right here for all of the news, notes, scores and highlights from around the leagu...