Suddenly Anthony says Jackson hiring will affect his free agency
Melo is apparently way more open to the impact of Phil Jackson than he was in the early days of rumors of his hiring.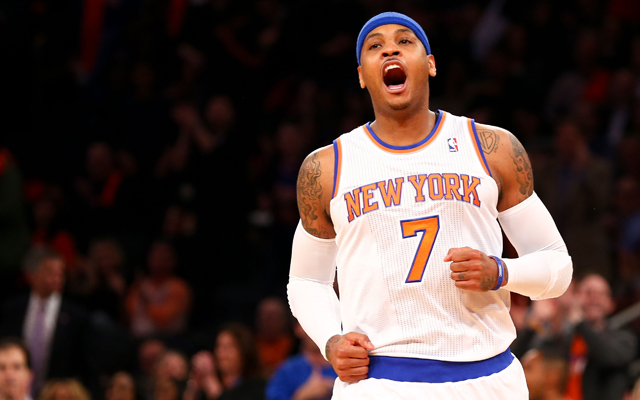 More NBA: Power Rankings | Expert Picks | Latest news, notes
When Phil-Jackson-to-the-Knicks went from "pipe dream" to "this is probably gonna happen" (before "all done but the press conference:), Carmelo Anthony was asked about the possibility. He said that the move was great, but wouldn't affect his free agency.
Apparently Melo just needed to think on it, though, because here's what he told the New York Post Monday. 
"The big picture, absolutely, for the big picture, this is definitely more attractive," said Anthony, who can opt out of his contract and become a free agent this summer.

One overriding storyline this season for the Knicks has centered around Anthony's free agency. Will he stay? Will he go? With Jackson aboard, the question shifts. Do the Knicks want him to stay? On Monday, Anthony sounded like a guy wanting above all to follow Jackson to a title, doing anything to get there.

"As far as knowing what it takes to win, Phil is the best to ever do it," Anthony said. "So for me to be able to have the opportunity and have him by my side, for him to teach me — I'm still willing to learn the game of basketball. And I haven't won anything. So he's won a lot. I can learn a lot from him and his system, things that he wants to incorporate here. I'm hoping and praying this all works."
via Carmelo: If Phil wants to change me, 'I'm willing to do whatever' | New York Post.
Basically, it comes down to this. If Jackson comes in and says he has a plan to get him a roster where he can win a championship, if the things he says resonate with Melo, Anthony will re-sign with New York. That's where he wants to be. He wants the city, he wants the notoriety, he wants the sponsorships, he wants the lifestyle, and more than anything he wants the money. Money, championships, lifestyle, that's the order. If he can get two and three without the first one, he'll probably consider it. But he'd rather re-sign. 
And Jackson has never failed to resonate with a star player. He's gotten through to, and built strong relationships with, every star he's been with. Kobe Bryant is impossible to get along with and Kobe loves him, despite the fact that Jackson wrote a book about how much of a headache Bryant was. 
So the odds are that Jackson presents a plan, Melo like it, re-signs for the max, and the Knicks are off to wherever they're going. 
Now, if Jackson can get Melo to agree to take less money to build a better roster... that's a whole other situation. 
Nerlens Noel is now being represented by Rich Paul of Klutch Sports

Steve Kerr opens up about his back issues and more

OJ Mayo, banned from the NBA for positive drug test, is considering playing overseas
The King? 'LeBron, it turns out, is Aquaman,' or so the account via Dwyane Wade's wife goe...

From Penny to Thunder Dan to Pistol Pete to Agent Zero, guys who would be better in 2017

Griffin said recently he thinks it's more likely that LeBron James goes to New York than L...