Summer League: Bucks' Jabari Parker focuses on 'unlimited' game
Melo comparisons can be put aside, Parker projects as an independent model of player in the NBA after a strong summer league performance.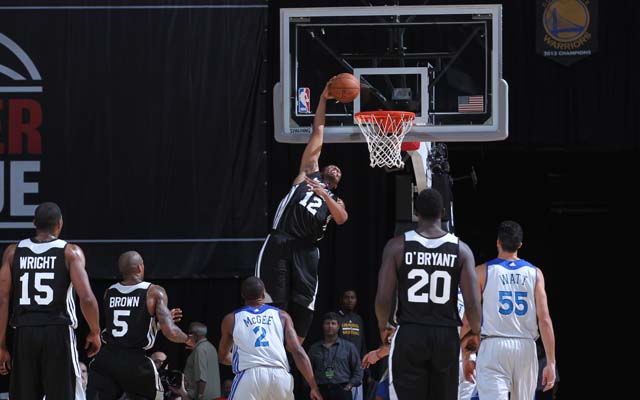 More Offseason Analysis: Updating Free Agency news | Free Agent tracker
LAS VEGAS -- Milwaukee Bucks rookie forward Jabari Parker is most often compared to Carmelo Anthony. It's based off his body size, a big, wide forward with perimeter ability and a certain lack of definition that can either come across as being out of shape or built like an ox, depending on who you talk to. 
But the Melo comparisons have never really rang true for Parker. From the moment he stepped on the floor at Duke, he certainly showed Anthony's scoring aptitude, but not his relentless pursuit of buckets. In reality, while Cavaliers forward Andrew Wiggins was touted as the more versatile option on account of his superior athleticism, Parker's skill set always showed much more than a scorer. 
And that's mental. 
Anthony has the capacity and skills to be a transcendent playmaker. But he's simply not wired that way. 
But he and Parker do share some mental traits, including a quiet confidence Parker exuded at the Summer League which could serve him well as he tries to be "the man" for the Bucks. 
Parker came across in post-game interviews as neither excited nor bothered by the adjustment to Summer League play. When asked about the adjustment to the size of the NBA game, even at Summer League with so many marginal players, Parker actually said it was a little bit easier for him to attack. 
"I think it was pretty much the same," Parker said. "Now I get more space. They don't bring a second guy over. At Duke I got doubled a lot, guys staying in the lane a lot. I think it's about the same or a little bit easier."
Parker barrelled into defenders, created space off the contact and scored repeatedly. But more than anything, the thing he worked on the most was the most underrated part of his game: Versatility. 
"Just being able to use all my tools," Parker said when asked where the Bucks' staff instructed him to direct his focus. "Being able to be in different areas of the floor, being able to compliment different guys. Set ball screens, cross screens. Make plays, I can also get open for shots. Trying to be unlimited at this point, working on my game."
That word, unlimited, is a pretty good one for what Parker projects as. Parker was pigeon-holed throughout the season as either a scoring 4 or a perimeter 3, but Parker takes a more positionless view regarding his NBA future. 
"I'm just a forward," the Chicago native said. "The game now, the 4 position is almost interchangeable. Along with Giannis [Antetokounmpo], he and I compliment each other." 
Parker averaged 15.6 points and 8.2 rebounds in the Summer League, and consistently showed the ability to establish rebounding position, and then start the fast break with an outlet pass or by bringing the ball up himself. 
"That's definitely something the coaches have told me to focus on," Parker said. "Both the pass to start the break and I can also start the break too, get the outlet. That's the advantage for guys like me."
Parker may never be the transcendent scorer Anthony is. But listening to him talk about versatility, his skills, the need to be "greedy to learn," and the importance of maintaining a high shooting percentage next season, you see the differences start to stand out. There's very little about Parker's game that screams "gunner." That can manifest itself as a lack of aggressiveness, or as a benefit. The modern NBA game is about being able to do multiple things. Parker can do those things. 
The next step is to see if he'll be able to do it well. But after a strong Summer League with the usual ups and downs for any rookie, one word of Parker's remains clear when it comes to his game. 
It's still "unlimited." 
The Pacers believe the Lakers tampered with Paul George before they traded him

Among the questionable decisions by Jackson was signing Noah to a long-term, lucrative dea...

This Akron store doesn't want their hometown hero to leave again
Milwaukee's star did not get cleared to play for his national team due to a painful knee i...

Ball, the second overall pick in the NBA Draft, is receiving even more hype

Rap mogul supports the vision the outspoken father has for his brand and sons