Summer League Buzz: Owners the ones to watch in CBA negotiations
When the collective bargaining agreement comes up in 2016-'17, the owners may be the ones who decide to lockout the players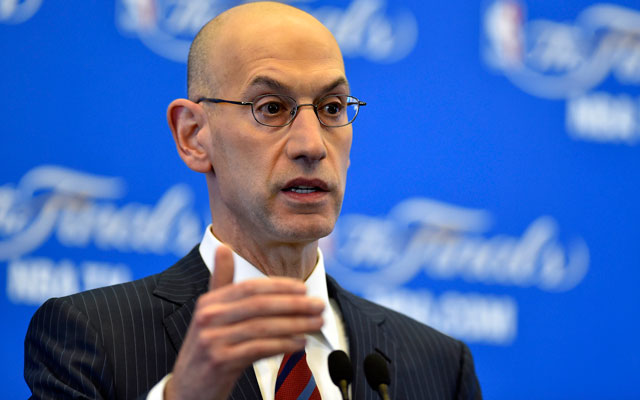 LAS VEGAS – On one hand, the NBA business couldn't be better. Basketball is all the buzz nearly a month after the last Finals game was played, and $2.6 billion in player contracts have been handed out during free agency. All that's missing is the confetti.
Commissioner Adam Silver and his suited cabinet members should've left the Board of Governors meeting on Tuesday, sauntered out onto the veranda overlooking a golf course at the Wynn Las Vegas and sparked up a cigar.
But no.
There's a dark side, and it could be the key to whether there will be another lockout in 2017.
Much of the focus since the National Basketball Players Association elected firebrand trial lawyer Michele Roberts as its executive director 12 months ago has focused on whether the players will be opting out of the 2011 collective bargaining agreement. We've been on the wrong scent, everybody.
Even with revenues soaring astronomically – from $3.8 billion in 2010-11 to a projected $5 billion next season – it's time to wake up and start wondering whether it actually will be the owners who do so.
Silver revealed Tuesday after meeting with league owners that the NBA is projecting that it will have to write a nearly $500 million shortfall check to the players after the 2016-17 season. There was a shortfall in the players' guaranteed 50 percent of revenue for this past season, and there could be another one after '15-'16, as well.
"That's not, of course, the ideal outcome from our standpoint," Silver said. "It's not something we predicted when we went into this collective bargaining agreement."
Or, viewed another way, it's what happens when player salaries are capped and business is great.
Anyway, this past season's shortfall was due to revenues coming in much higher than projected, resulting in the salary cap rising to $70 million from the projection of $67.1 million. A much larger shortfall in '16-'17 will result from the massive influx of new revenue from the league's $24 billion, nine-year deal, which begins hitting the system that season.
"It's happened because the revenue we generated was much higher than we had ever modeled," Silver said. "But we're also learning that when you have all that money coming into the system, team behavior isn't necessarily predictable either."
The upshot is that, in the last three years before either side can opt out of the CBA, players' negotiated contracts will come in lower than their guaranteed share of 50-51 percent – significantly lower in '16-'17. And, as one league source told me hypothetically, there are going to be a lot of owners who will look at those numbers and say, "If they're only worth 46 percent, why the hell are we paying them 50?"
Buckle in; it gets worse.
Silver also said Tuesday that a "significant number" of teams are "continuing to lose money" despite "fairly robust revenue sharing when some teams are receiving $20 million checks from their partners."
Why are teams losing money? Silver cited the cost of competing with high payrolls and harsh luxury taxes (money the owners willingly spent and taxes they themselves imposed) as well as arena costs, new practice facilities and other infrastructure costs that have "gone up."
Here we go again. After a massive reduction in the players' share of revenues (from 57 percent to 50) in the last CBA … after revamped revenue sharing to balance out large and small markets … after ever-more punitive luxury tax rates to level the competitive playing field … the owners are going to cry poor again.
And just wait. LeBron James hasn't even signed the five-year, $200-plus million contract that is awaiting him in 2017 – that is, if the league isn't shut down by then.
"As we have done historically with the players' association, and rather than at least publicly having a back and forth with the union on our revenue and expenses, we've made absolutely clear to them -- just as we have historically -- that we will share the audited financials of the league office and all 30 teams," Silver said.
The commissioner hopes this will lead to "an understanding -- a common understanding -- of what the league finances are and will move us that much closer to a long-term relationship, a long-term collective bargaining agreement."
Holy rhetoric, Batman!
If either side wants to opt out of the 10-year labor agreement after the '16-'17 season, it must give written notice by Dec. 15, 2016.
Of course, Silver's stated goal as the owners' lead negotiator in 2011 never had anything to do with every NBA team turning a profit. (If it had, not a single NBA game would've been played in the past four years.) From Silver himself in April 2011 -- and many, many times thereafter until the lockout finally ended in November of that year -- the goal was "a system in which all 30 teams can compete, and, if they are well managed, make a profit."
Now, the owners are concerned about rising expenses, even as they are handing out $2.6 billion in free-agent contracts as part of a system they agreed to.
And that's where it gets even worse. Someone or something has to take the blame if the owners are going to justify cutting off the lights in the midst of the NBA's new golden age, and "the system" is always an easy target. That's where they'll strike first. The one thing Silver, David Stern and the owners wanted so badly the last time around and couldn't get was a hard salary cap.
Silver has even used the hard-cap threat in responding to some of Roberts' rhetoric about opting out when she first got the job – apparently forgetting that the NBA has had a hard aggregate salary cap for almost 20 years since the players' share of the revenue is, um, capped. 
"If there's a feeling that we should reopen the collective bargaining agreement," Silver said in May, "there will be things that we're going to bring back to the table, too."
Is it hopeless? Hardly. Silver and Roberts are both reasonable people, and the hope is that they will get together as early as later this summer to start comparing notes and moving toward this "common understanding."
"In discussions that she and I have had, and I've had with players' association representatives, it's clear the goal on both sides is to avoid any sort of work stoppage whatsoever and maybe even to avoid the opt out," Silver said.
One of the problems, of course, is that they don't necessarily work for reasonable people.
This is why Roberts and the NBPA leadership must be careful what they wish for in 2017. It's also why the union may have made the first mistake of the Roberts era – after decades of missteps under her predecessor, Billy Hunter – by rejecting the league's proposal to "smooth" the influx of TV revenue into the system.
The massive spike in the cap over the next two seasons without smoothing is the reason the league may have to cut a $500 million check to the players. Had the new money been smoothed in gradually, the shortfalls would've been smaller and the players' percentages would've been higher, giving the owners' less credibility if they wanted to claim that the system was broken again.
Then again, from a timing standpoint, maybe it's fine. The players will get the shortfall money – according to Silver's estimates, more than $1 million per player if distributed evenly -- in July 2017.
Just in time for the lockout.
Playoff seeding changes. As CBSSports.com reported Monday, changes are coming to the rule that awards a higher playoff seeding to a division winner with a worse record than a non-division winner. Silver said the competition committee recommended to the board that teams be seeded 1-8 in each conference based on record. Owners didn't vote on it Tuesday, but Silver said he expects the change to be passed before the start of next season.
Jordan flip-flop 'not a great look.' Silver admitted that DeAndre Jordan committing to the Mavs during the free-agent moratorium before changing his mind and re-signing with the Clippers was "not a great look." But he said none of the owners in the room Tuesday "had a great idea, frankly, in terms of how to change it."
What's been missed in the whole Jordan fiasco is that the problem wasn't necessarily the moratorium – in this case, an eight-day period during which players and teams could agree to contracts but couldn't sign them. It was the shenanigans that went on before the moratorium started.
According to a detailed, entertaining account from ESPN.com, Mavs forward Chandler Parsons' recruiting of Jordan actually was more extensive than anyone knew. Chandler, according to the story, had been traveling around the country partying with Jordan for weeks while Jordan was still under contract with the Clippers.
"It's largely out of our realm," Silver said, when asked about the practice of players recruiting free agents to their teams. "And I technically would not call it tampering. We've made a decision that when a player is talking to another player and saying, 'I'd love to play with you,' and that's not done at the behest of the team, we accept that.
"I think it's not ideal," he said. "I mean, because … preferably you wouldn't want a player to be doing what a team couldn't otherwise do."
So why have a rule? Article 35, Section (e) of the NBA Constitution and By-Laws expressly prohibits player tampering. So if the rule cant be enforced and the league accepts that players are gonna play, why have the rule at all?
CBS Sports HQ Daily Newsletter
Get the best highlights and stories - yeah, just the good stuff handpicked by our team to start your day.
Please check the opt-in box to acknowledge that you would like to subscribe.
Thanks for signing up!
Keep an eye on your inbox for the latest sports news.
Sorry!
There was an error processing your subscription.
All the info on the top names still on the market this offseason

Keep checking back for the latest updates as NBA free agency continues

This is the second LeBron mural that's been defaced since the superstar joined up with the...
Hayward demonstrates how far he's come along since the gruesome injury he suffered in his Celtics...

Here are the top prizes left in the 2018 NBA offseason

Wade is an unrestricted free agent, and one of the biggest names left unsigned