Summer League: Doug McDermott looks like solid fit all around for Bulls
Former Creighton star gets help from Kyle Korver, plays with Derrick Rose, and thrills in Summer League play.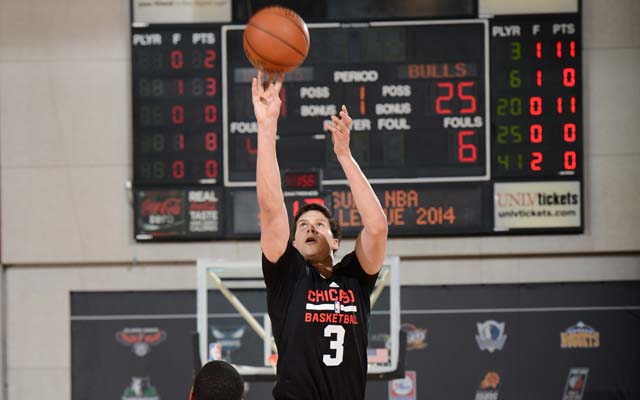 More Offseason Analysis: Updating Free Agency news | Free Agent tracker
LAS VEGAS -- Doug McDermott is cool as a cucumber. 
The entire week at Summer League in Las Vegas, McDermott has impressed. It's not only the 31-point game he dropped, or how he wooed the media with patience and thoughtful answers. It's the way McDermott, who at 22 and a college star Creighton and has more experience with this kind of thing, looks so professional in everything he does. 
He's better equipped for the media attention and physical differences -- even in Summer League -- and the constant pace of games as the Bulls evaluate exactly what they got in McDermott.  
"I've dealt with it throughout the college season," McDermott said. "It's a little different on a new team with new teammates but I'm just having fun with it. It's a great group of guys."
McDermott obviously had a bigger role on this summer league team before he sat out the Bulls' finisher Saturday. When fall rolls around, he'll be trying to earn playing time on a team gearing up for another hopeful run at an Eastern Conference title, provided you-know-who stays healthy. 
Speaking of you-know-who, it turns out that McDermott's already getting some experience next to Derrick Rose, as McDermott said Rose and several of the other Bulls were around the team's practices this week. 
"This last week playing with Derrick Rose, just seeing those guys around the facility, that's a 'whoa moment,' " McDermott said. "That's probably got to go away though, because you've got to get used to it. It's not going to change. I've just got to continue to have fun with it and not look at them as a fan but as a teammate now."
McDermott finished summer league play averaging 18 points on 44 percent shooting and 4 rebounds per game. He likely won't be putting up those numbers next season, though his shooting will be an immediate boon for the offensively-challenged Bulls, even after the addition of Pau Gasol.
McDermott has received guidance on how to navigate his time with Chicago from a former Bull to whom he's often compared.
"[Kyle] Korver is a guy from Creighton who played with a lot of these guys, so he's given me some advice."
For all the hand-wringing about McDermott's projection as a player, Korver may be the best fit. And if he can follow Korver's guidance to become a similar-level player, he's going to have a productive and long career in the league. Either way, if you believe in first impressions, McDermott made a good one in Summer League. 
Is it just a normal workout, or is LeBron continuing his recruiting efforts?

Chris Bosh answered on the spot about the LeBron James and Kyrie Irving situation

LeBron James is pitching free agents on Cleveland but the Cavs can't even reach Kyrie Irving...
Thanks to the Rockets, the Nets might be open to selling a controlling stake

Stephen Curry likes what he sees in this fan

How the Cavs star would fit with the Wolves, Knicks, Clippers, Spurs and other teams linked...