Summer League: Vonleh and Zeller show Hornets ready to build
Hornets young big men talk about the summer league experience, and provide a window into what Charlotte will look like next season.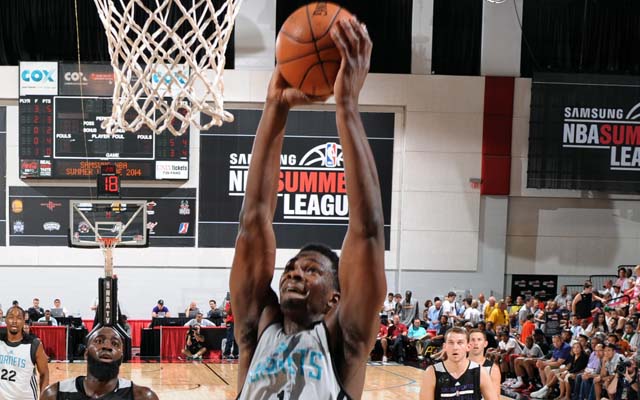 More Offseason Analysis: Updating Free Agency news | Free Agent tracker
LAS VEGAS -- On the surface, Noah Vonleh has struggled in Summer League. And that's being polite. The kid has been miserable from the floor. The gangly forward drafted ninth overall in June's draft out of Indiana has made 19 of 62 shots (30.6 percent). He's turned the ball over 16.9 percent of the time according to Synergy Sports. It has not been a banner two weeks for the raw forward.
But there are signs of life. He's fifth among every player who played at least three games in rebounding and his rebounding has looked instinctive.
"I knew rebounding was going to translate right away," the 6-foot-9 forward with a 7-4 wingspan said bluntly Thursday. "There's still a lot of things I need to learn on the defensive end, on the offensive end, but rebounding I know."
Vonleh's still wiry, and years in a strength and conditioning program are going to be vital for him to handle the wear and tear down low amongst the NBA trees. "This summer, I'm going to focus on getting a lot stronger, along with my post moves," Vonleh said. "My whole body strength, just to be able to maintain guys."
But his athleticism does give him an advantage. His underrated leaping ability allows him to sky, and his insane length enable him to go-go-gadget above the fray to snatch caroms. That's going to prove vital next season as he tries to carve out a spot on a playoff team in Charlotte that's gearing up for a run with the addition of Lance Stephenson and Marvin Williams.
Vonleh has played alongside Cody Zeller this week. Zeller struggled to establish himself during the first part of last season before coming on strong in the second half.
"It's a long learning process over the whole year," Zeller said. "I started to pick up on things in the second half of the year, not making as many mistakes on defense. Something I just kept on proving throughout the year, improve through the summer."
Zeller said the coaching staff has told him to focus on improving his post moves and isolation work, hoping to use him as more of a weapon offensively next season. Meanwhile, Vonleh envisions himself as a stretch four, with the biggest question mark being whether he can translate the 3-point shot he showed flashes of in college into a consistent weapon.
The evolution of these two big men is pivotal for Charlotte to take the next step this season. The additions of Stephenson and Williams will help with their woeful perimeter offense last season. But the Hornets and versatility in the frontcourt after the loss of Josh McRoberts in free agency to Miami. Neither Zeller nor Vonleh projects as the passer and playmaker McRoberts is, but their raw physical ability may be superior. More than anything, they provide the possibility of rim protection without being the offensive zero Bismack Biyombo is (Note: Biyombo showed real progress last season, but still makes Charlotte a four-on-five team offensively when on the floor).
The Hornets were one of the best teams in the league in defending the paint under Steve Clifford's admittedly simplistic defensive principles, but having Zeller or Vonleh capable of protecting the rim in a way that Al Jefferson can't could be huge for maintaining defensive lockdown while providing some offensive balance.
The most likely scenario will be that both Zeller and Vonleh will have growing pains this season. They've had summer league stretches where they look like they won't be able to stay on the floor in the NBA game. But just as Zeller said, it's a yearlong process, and there will be moments they show potential.
Unlocking that potential starts with summer league, where the Hornets' young big men may be taking the first steps to unlocking a bright future for Charlotte -- for the first time in a long time.
Check in throughout the night for the latest news and highlights from NBA games

The Lakers legend details why the NBA popularity will continue to rise

SportsLine's Mike McClure, a DFS pro with more than $1M in winnings, gives optimal lineup...
If the Thunder forward doesn't know the reason, he has a very short memory

The 76ers star doesn't see a bright future for Jon Snow

Valanciunas played professionally in Lithuania before joining the Toronto Raptors