Suns' Babby says team will match any offer for Eric Bledsoe
Phoenix president of operations says team intends to match any offer for Bledsoe in restricted free agency.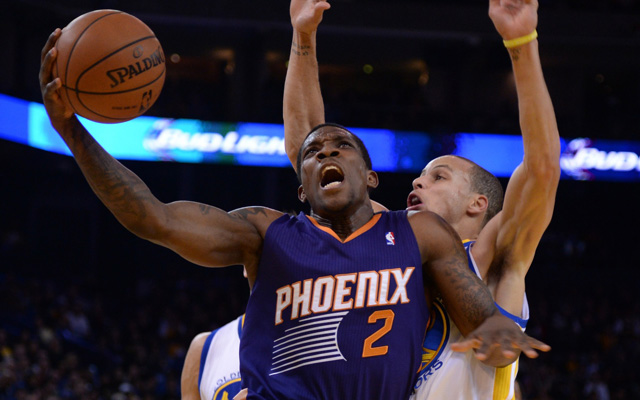 The Suns have had a rollercoaster experience when it comes to figuring out if and how they will re-sign Eric Bledsoe in restricted free agency. The guard came to the Suns this season in the trade for Jared Dudley (in a three-way that also sent J.J. Redick to the Clippers) and there were questions of whether he could run a team, if he could fit with Goran Dragic, if he was ready for the spotlight. Instead, he thrived alongside Dragic, as have the Suns, surprising everyone by emerging as a playoff team. 
But then he suffered a torn meniscus, opting to have it removed instead of repaired, meaning a shorter recovery period but more long-term impact. The Suns decided not to sign him to an extension in the fall, wanting to see if he could answer the questions that came with him. He has, but has been hurt. So what will they do with him in restricted free agency? The Suns have the riht to retain Bledsoe even if he signs a deal with another team by matching the offer. Will they match any offer for him? Because he's likely to get a hefty one. On Wednesday, front office head honcho Lon Babby answered that question. From AZSports.com: 
"I think our answer to that is yes, that we know enough about Eric as a player," Babby said. "Even more importantly, we've lived with him now for almost a year as a person. We like everything about him. Like him as a teammate, like him as a representative of our franchise and everything that he stands for.

"He's got a tremendous future."

...

"I think he will be a Phoenix Sun for a long time; that would be my expectation and my hope."

"Yes," Babby said when asked if the team would match any other offer. "If you ask me today, I would say absolutely we are going to match any offer, but I hope it doesn't come to that. I hope Eric has developed enough of a feeling, and my instincts are that he likes it here."
via Phoenix Suns' Babby: Right now, team plans to match any offer made to Eric Bledsoe ArizonaSports.com.
Bledsoe was averaging 18.0 points, 5.8 assists and 4.3 rebounds per game before the injury and 1.5 steals as well. He and Dragic did not boast great plus/minus numbers together but still thrived in certain situations. 
Dragic will be a free agent this summer, so the question will have to be if they decide to commit to the dual-point-guard option long-term. That could be the only thing that gets in the way of signing Bledsoe, if the team decides it has to make a choice between the two point guards. 
HT: HoopsHype
Thomas was traded to Cleveland yet some fans are taking it out on him ... and his jerseys

The Celtics dealt the No. 1 pick to Cleveland as part of the Kyrie Irving-Isaiah Thomas tr...

Thompson was rumored to have been a point of discussion with the Cavs regarding Kyrie Irvi...
What the Celtics and Cavs look like after the Eastern Conference powers swap point men

Simmons was the No. 1 pick in the 2016 NBA Draft but did not play last season

Wade leaving Chicago is reportedly a matter of when, not if