Suns, Celtics still pursuing Josh Smith
The Suns and Celtics are still pursuing Josh Smith, but will a deal get done?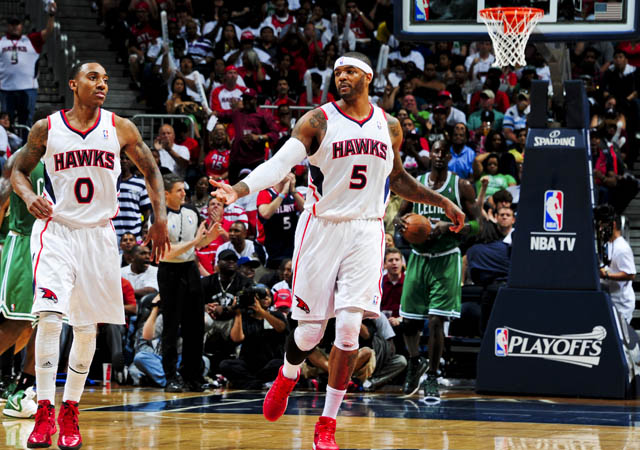 Boston has interest in Josh Smith.
(Getty Images)
Ken Berger of CBSSports.com reports that the Boston Celtics have kicked up trade talks with the Atlanta Hawks, centered around a potential deal for forward Josh Smith. 
ESPN notes that the only probable target in return for Atlanta would be Paul Pierce. That makes little sense for the Hawks, who are looking at going younger and more athletic and clearing cap space, and Pierce has a player option of $15 million for next season. There's just no real win there for Atlanta. 
Which is why, as Ken Berger of CBSSports.com reports, the talks haven't gone anywhere yet. A more likely landing spot? Phoenix. 
The Hawks are believed to be seeking a combination of expiring contracts, young players and draft picks in exchange for Smith, whose expressed desire for a five-year, approximately $90 million max contract has cooled the market for him. Rival executives continue to believe that the Suns have been aggressive in their pursuit of Smith and other trades. But even with a potential lottery pick from the Lakers in the Steve Nash deal, execs are skeptical that Phoenix has enough attractive young players to complete the deal. The Nets and Celtics have inquired about Smith, but its too early to say where those talks are going.
via Trade Buzz: Teams trudge cautiously toward deadline - CBSSports.com.
You wonder if the Celtics need a third team to bring in and make this deal happen. But here's the trick with that. You'd have to find a team with young assets and good players who would supposedly want to bring in Pierce. Then they'd send their young assets and picks to Atlanta, and Atlanta sends Smith to Boston. 
But what team is going to give up a haul like that for Pierce? The only option with any sort of shot of that happening is the Clippers, and it's hard to see them going for both Pierce and Kevin Garnett, the real player whom they want. 
It's a complex situation. The only thing that's clear at this moment is that Atlanta is definitively trending towards trading Josh Smith. 
Who can convince LeBron James to stay in Cleveland? What can the front office get for the Brooklyn...

Mike D'Antoni and Blake Griffin's altercation turned out to be the tip of the iceberg for a...

The former Clipper apparently had some tricks up his sleeve after a chippy game
The Rockets were apparently looking for Austin Rivers and Blake Griffin after a chippy gam...

If they don't meet in the Finals again, let's appreciate every one of the 27 matchups since...

D-Wade picked up the steal and got creative on the fast break as the Cavs headed into half...