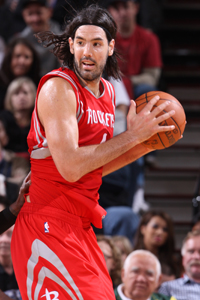 Suns landed Luis Scola.

(Getty Images)
The Suns may have been forced to watch helplessly as their top free agent target Eric Gordon was matched by the Hornets, but they've landed a solid consolation prize.
According to multiple reports the Suns have claimed Luis Scola off waivers after the Argentian power forward was cut by the Rockets last week via the amnesty provision.
To make room for Scola, the Suns have amnestied Josh Childress, according to multiple reports.
Scola, 32, has quietly been one of the Western Conference's most consistent and productive power forwards the last three seasons averaging 16.6 points per game on better than 50 percent shooting.
The Rockets dropped Scola in what appears to be an effort to either make a significant run at Dwight Howard or simply to clear the decks a bit as Jeremy Lin and Omer Asik could be joining the roster soon.
Either way, the Suns have found themselves with an extremely talented offensive player in Scola and someone that will certainly balance their attack with a quality inside-out presence.
Starting at power forward for Phoenix recently has been Channing Frye who is more of a stretch 4 specialist type of player. They do have second-year player Markieff Morris and Hakim Warrick, but it seems likely that Scola will assume the starting role next season.
After losing Steve Nash in a sign-and-trade to the Lakers, the Suns have done work to revamp the roster this offseason adding Scola, Goran Dragic, Michael Beasley and rookie Kendall Marshall. And they're said to be one of the major players for O.J. Mayo as well.
It's not a complete rebuild in the desert for the Suns, but certainly a transition to a new core. It appears that Phoenix will remain competitive while not likely ascending into the upper tier of the West. Scola is a fine addition and one that was had at a bargain, but at some point the Suns will likely need to start over.