Suns' Miles Plumlee replaces Hawks' Pero Antic in Rising Stars Game
Phoenix Suns' center Miles Plumlee will replace Atlanta Hawks' big man Pero Antic (ankle) in the Rising Stars Game.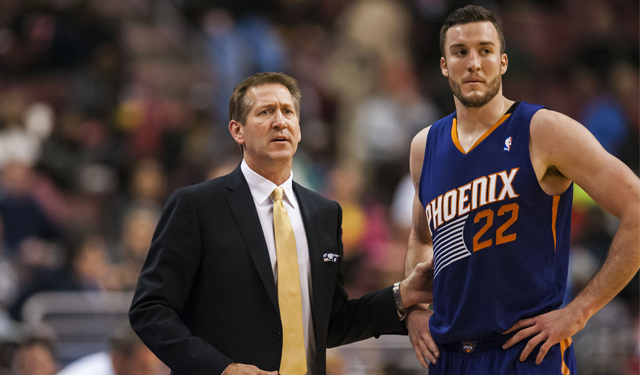 Atlanta Hawks' big man Pero Antic was originally put in the pool for the Rising Stars Game during All-Star weekend as a 31-year old rookie. However, a stress fracture in his ankle will keep him out for a few weeks and he'll miss the action on All-Star Friday night. The league will replace his spot in the Rising Stars Game with Phoenix Suns' center Miles Plumlee, the second year player out of Duke.
#Suns center Miles Plumlee will be in the All-Star weekend's Rising Stars Challenge as a replacement for Atlanta's Pero Antic, who is hurt.

— Paul Coro (@paulcoro) February 7, 2014
Having Plumlee in the game makes a lot more sense. First of all, he's not in his 30's. He's 25 years old (not young but also not in his 30's) and he's had a much better season in his first season with the Suns. He's averaging 9.3 points, 8.6 rebounds, and 1.5 blocks in 27.4 minutes for a Suns team that has surprised the league this season with a 29-20 record.
Plumlee joins Grant Hill's team for the game that includes Damian Lillard, Bradley Beal, Andre Drummond, Harrison Barnes, Terrence Jones, Giannis, Antetokounmpo, Jonas Valanciunas, and Dion Waiters.
A look at who came out ahead after Tuesday's megadeal swaps the point guards on the East's...

How the addition of IT changes the Cavs and where they go this summer depending on LeBron's...

Ainge said that he expects the start of Thomas' season to be delayed, but he'll be 'fine'...
The NBA MVP odds have shifted quite a bit following the blockbuster Kyrie Irving - Isaiah Thomas...

It's debatable whether Boston gets better right away with Irving, but the future is definitely...

Kyrie Irving was set to grace the cover of this year's video game in a Cavs jersey -- whoo...