Suns' Tyson Chandler says he wants no part of rebuilding
Phoenix big man Tyson Chandler wants to win now.
• 1 min read
Tyson Chandler signed a four-year, $52 million contract with the Phoenix Suns last July, and it hasn't worked out. He was supposed to help the Suns make the playoffs and potentially do some damage there. Instead, they're 19-50, and Chandler has played much more like he did in his final season with the New York Knicks two years ago than he did when he bounced back with the Dallas Mavericks last season. Chandler said in February that he's "not jumping ship," via ESPN, but now he sounds less patient. 
"For me, especially where I am in my career, I want to win," Chandler said Friday, via the Arizona Republic. "I want to win now. I'm not in any kind of rebuilding stage. So if that's the case, it ain't where I'm supposed to be." 
Chandler is 33 years old and near the end of his 15th year in the NBA. Anyone in his position would want to chase championships. The reality, though, is that he took a risk when he accepted the deal. Phoenix wanted to lock him up quickly so he could be a part of its pitch to LaMarcus Aldridge. When Aldridge chose the San Antonio Spurs, the Suns became a team that had the potential to make the postseason, but nothing more.
Since then, it's been a disaster in Phoenix. Rookie Devin Booker has been a bright spot, but injuries, chemistry issues and a coaching change have made this season one that all involved would rather forget. Chandler's contract looks bad, too, especially with Alex Len capable of starting at center. If the Suns try to trade the veteran, it might not be easy. 
On the bright side, there's no way Phoenix should be this bad next year. If Eric Bledsoe and Brandon Knight are healthy, Booker improves and there are some roster tweaks, it might even have a chance to make the playoffs for the first time since Steve Nash and Amar'e Stoudemire were on the team. It is unclear, though, what the front office's strategy will be in the offseason.
Two years ago, the Suns were unexpectedly competitive and they decided to try to speed up the rebuilding process. Perhaps, this time, general manager Ryan McDonough will take things more slowly. If that's the case, though, then it sounds like Chandler won't be too happy.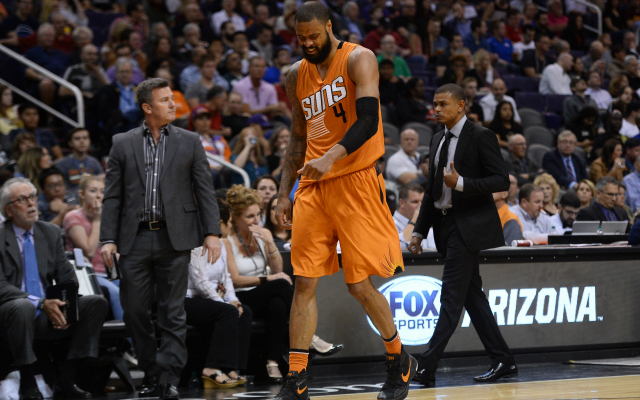 Stephen Oh has his finger on the pulse of Wizards basketball and released a play for Sunda...

The Warriors don't have any interest in winning a popularity contest. They're fine winning...

The Cavs traded Thomas at the deadline after just 15 games
SportsLine's Mike McClure, a DFS pro with more than $1M in winnings, gives optimal lineup...

We've got all the scores, top plays and news from Sunday's NBA games

The Sixers will try to extend their seven-game winning streak