Suns working on extension with Eric Bledsoe
Phoenix point guard could get an extension by the October 31st deadline after being traded from the Clippers.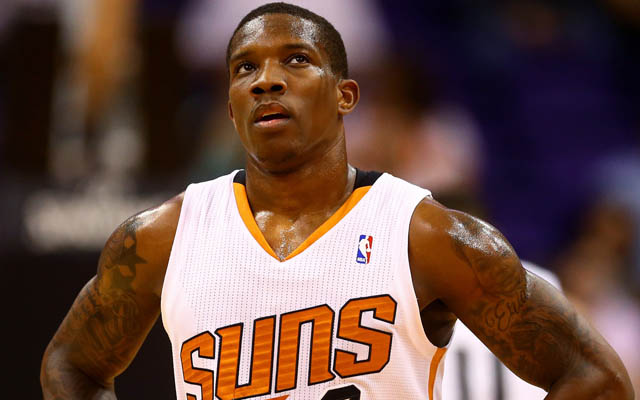 When the Suns dealt for point guard Eric Bledsoe this summer from the Clippers, they knew they had a decision to make. Bledsoe is entering the final year of his rookie contract. He's regarded as a guy who looks incredible in short stints off the bench, but hasn't looked like a guy who can run your offense for 35 minutes. Does he get the big extension, or not? 
How big it is remains to be seen, but it looks like the Suns are closing in on some kind of extension with the guy they call "Mini-LeBron." From ArizonaSports.com:
The Phoenix Suns are currently in talks with newly acquired guard Eric Bledsoe on a long-term contract extension. If the two sides can't reach a deal by the end of the month, the 23-year-old combo guard would become a restricted free agent at the end of the season.

The Suns are in an interesting spot because they've only seen the Kentucky product in training camp and a few preseason games, and it's still uncertain that he will become the star many project him to be.

Nonetheless, general manager Ryan McDonough, while on Arizona Sports 620's Burns & Gambo show Wednesday, agreed that Bledsoe does figure into the team's long-term plans. McDonough said contract talks with the fourth-year player have gone "pretty well" to this point.

"If we're not able to work out a deal (by Oct. 31), we would start next summer with Eric as a restricted free agent, but obviously we're hoping to get something done before that," the general manager said.
via Phoenix Suns' Eric Bledsoe has 'more upside' than risk, GM McDonough says ArizonaSports.com.
This is an interesting case. The standard operating procedure for GMs is often to do the opposite of what the surface-level common sense would dictate. Common sense would say that you don't know how Bledsoe will do running a team and if he'll be worth the extension, so let him play a full year, and if he earns the contract, you'll know and he'll be worth it, and if not, you save yourself some money and can still invest in his future. As a restricted free agent, the Suns can match any offer for him. So there doesn't appear to be a downside to that plan. 
But for whatever reason, teams have been very aggressive in signing players like that (Jrue Holiday, DeMar DeRozan, JaVale McGee, among others) under this CBA to extensions... and they've been largely right as players have made strides that same season. There almost seems to be an opposite effect where instead of coasting after getting the big money, they try and prove they were worth it. 
With him being tagged as a potential franchise cornerstone, Bledsoe would have to be in line for a deal north of four-years, $40 million. There's now way he ges the max but if they really believe in him the way they say they do, he could still be in line for a huge extension. We'll see what kind of numbers shake out of this deal in the desert. 
Kyle Kuzma is tired of how his teammate Lonzo Ball is being treated

The Warriors used a huge third quarter to come back from a 23-point deficit to get the win

Three takeaways from Golden State's 24-point rally past the Sixers
Okafor has played only 25 minutes this season

Capela's shoe slipped off, and was sitting near the free throw line

The Magic will instead play in the Las Vegas Summer League