Supposedly historic draft is mere prelude to chase for LeBron, Melo
The NBA Draft did not lack for drama or deal-making, but it's merely a prologue to a frenzied summer of LeBron and Melo free-agent madness.
More 2014 NBA Draft: Draft Tracker | Trade Tracker | Complete coverage
Of all the fascinating minutiae that happened Thursday night in the NBA draft, the most interesting development could be tied to LeBron James and a tweet he typed two months ago:
"No way u take another PG in the lottery before Napier."
This is what general manager LeBron had to say in April about Napier, who led Connecticut to the NCAA championship. Now they are teammates ... with a caveat.
The caveat being that James remains in Miami after opting out and exploring the free-agent market, which opens for business at 12:01 a.m. on Tuesday. 
In the hours leading up to the draft, one Eastern Conference executive said that it reminded him of a certain draft four years ago -- a draft that became almost an afterthought heading into the 2010 Summer of LeBron. How time flies, because another Summer of LeBron is upon us. This draft, like that one, was merely the appetizer for what is expected to be a roiling cauldron of trading and player movement.
The Cavs got Andrew Wiggins. The Sixers got a No. 1 talent in Joel Embiid. The Nuggets did excellent work, getting Gary Harris and Jusuf Nurkic in a trade with the Bulls. The Celtics had what one team source described as a "great night" with the addition of Marcus Smart and James Young.
Shall I continue? The Sixers did a great job parlaying Elfrid Payton, the 10th pick, into a draft-and-stash Dario Saric plus a future first- and second-round pick. The Nets turned no draft picks into three solid players by the end of the night. Adam Silver hit the biggest home run of all, filling the Barclays Center with tears when he made Isaiah Austin -- the Baylor sophomore whose NBA dream ended with the diagnosis of a genetic disorder -- an honorary draft pick.
But the biggest moves of the night mirrored the biggest moves to come. They're all about free agency -- all about James and Carmelo Anthony.
The Heat curried favor with their free-agent King when they acquired the 26th pick from Charlotte and selected James' hand-picked point guard of the future, Napier. There's no quid pro quo here -- no guarantee that James will stay just because Pat Riley found a way to get the player that James tweeted Thursday night was his "favorite player in the draft." But if you're like me and you think the likelihood of James leaving Miami was slim before Thursday night, you also need to understand how much James values mentoring players he likes and believes in.
The other free-agent headline grabber was the Bulls' acquisition of No. 11 pick Doug McDermott, the collegiate player of the year who will immediately step into a floor-spacing role in Chicago with his 3-point shot-making ability. The only space more important is cap space. Will amnestying Carlos Boozer and trading Taj Gibson be enough to entice Anthony to leave New York for Chicago? Will the allure of playing with Dwight Howard and James Harden in Houston prove to be a bigger trump card?
Not so fast on both counts. It should be noted that it wasn't a bad night -- or couple of days, actually -- for Anthony's would-be boss, the Zen Master, Phil Jackson.
With his first move as president of the Knicks, Jackson passed with flying colors -- acquiring veteran point guard Jose Calderon and dynamic prospect Shane Larkin while picking up two second-round picks and clearing $3 million off the 2014-15 books in the process. With Dallas' picks, Nos. 34 and 51, Jackson invigorated the roster with Wichita State forward Cleanthony Early and Greek Freak 2.0 -- Thanasis Antetokounmpo, who is the older brother of the Bucks' Giannis Antetokounmpo. 
There is plenty of work still to be done for Miami and New York to keep their franchise superstars. For the Heat, there is the potentially untidy business of dealing with Dwyane Wade and Chris Bosh and their own opt-outs clauses -- and finding money to improve the team with veterans who can help fortify James for another title run next season. In New York, Jackson faces the difficult task of providing Anthony with not just hope and a vision, but also a tangible short- and long-term plan. 
And for both superstars, other suitors are ready to pounce as the league braces for a tidal wave of player movement in the coming days.
But for now, a draft night that had been billed for so long as historic -- one that seems unlikely to live up to the hype -- was really only about one thing.
The summer, as in the Summer of LeBron and Carmelo. Buckle up.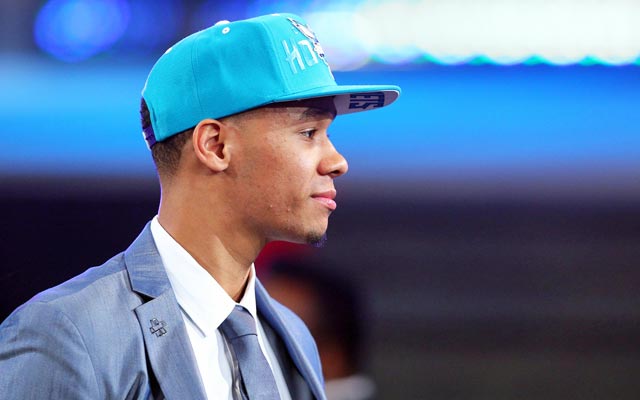 The NBA's City edition Nike jerseys are bold and very different

The Wolves may be smoke and mirrors, but the Pacers have the look of a team that can hang in...

LeBron said it might be difficult if the Lakers rookie ducks out of the way before he gets...
Galin Dragiev has his finger on the pulse of the Mavericks and just locked in a play for Thursday's...

The Crimson Tide point guard has been impressive so far and joins the top tier of prospect...

The speculation has been rampant, but seeing James in purple and gold is far from a sure t...