Surprise! Dwight Howard says Kobe Bryant has been mentoring him for years
Dwight Howard says new teammates Kobe Bryant has been mentoring him for years.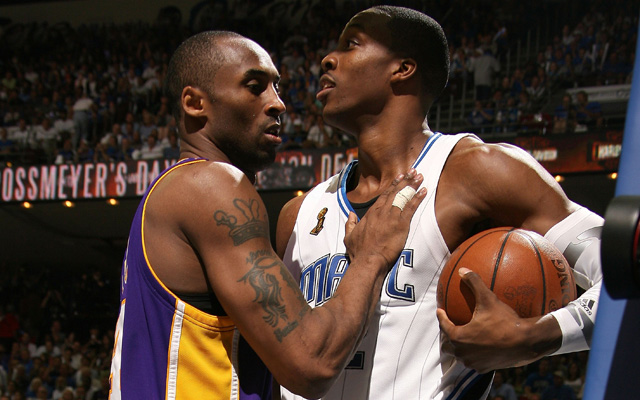 Kobe and Dwight are close as can be, apparently.
(Getty Images)
Not going to lie to you -- the revisionist history that goes on in the sports media is a huge pet peeve of mine. And Dwight Howard is the Howard Zinn of it lately.
He didn't want his coach fired. He didn't object to coming to Los Angeles. Now, Howard says that, contrary to reports for months that he had been dissuaded from choosing the Lakers as a possible destination after a phone call from Kobe Bryant, he and Bryant have been buddies "for years." From SI.com:
When it comes to Bryant, Howard also sets himself apart from O'Neal. The current Lakers center -- who was known to have reservations about being overshadowed by Bryant before joining him -- said their foundation is far more solid than most people realize.

"What people don't know is that this is one of the guys who I've been talking to for about four years now," Howard said. "And he has been an amazing help to me, just pushing me in ways -- secretly because we played in the Eastern and Western Conference. But it's been him just talking to me, showing me how to do certain things with my team and things like that."

The goal, of course, is for Howard to be the best Howard he can be. Happy, healthy and -- perhaps one day -- a Hall of Famer.

"I told [Bryant] as soon as I got here, 'Hey, I want to be one of the greatest to ever play. I want you to push me every day,' " Howard said. "And he was like, 'I'm going to push you, because I see something in you, and I want to make sure that I do my part.' And I promised him that I'm going to do whatever I can do."
via Dwight Howard ready to show Lakers fans the real him - Sam Amick 

OK, Dwight, sure thing. 
Look, Howard never confirmed the reports of the phone call, and maybe it was fabricated (by multiple media outlets). But why did he resist so long in accepting a trade there? Los Angeles always had the most assets to provide in a trade structure.
Bryant will push him, but this is going to be the first time Howard has really been held accountable by anyone except Stan Van Gundy. And we all knew how that worked out. 
Players often look out for and take care of one another. But was Bryant really mentoring Howard years ago, even when they met in the Finals? Bryant has taken very few players under his wing, the exception being Carmelo Anthony. But if it's true, then good on them both for doing something to improve Howard's game.
But this entire environment feels less than authentic. 
T.J. Warren gets paid big money by the Suns in a four-year deal

Melo didn't hold back on his feelings about President Donald Trump and urges for help in Puerto...

The Wizards star says the NFL won't change until important players like Brady and Rodgers speak...
Popovich spoke at length about sports, race, culture, and politics during Spurs media day on...

Carmelo Anthony finds the idea of coming off the bench very funny

Several teams spoke about Trump's recent comments about protests and the Warriors' White House...