Team USA announces 2014 final roster: Lillard, Parsons cut
DeMarcus Cousins, Anthony Davis, Kenneth Faried, Andre Drummond all make roster along with Kyrie Irving and DeMar Derozan as surprises.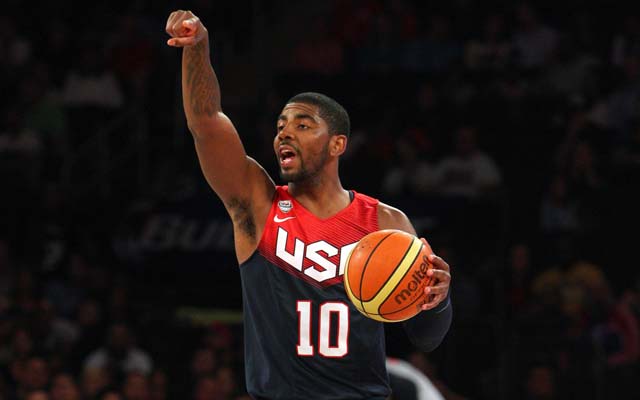 Team USA announced its final roster of 12 headed overseas for Spain after their exhibition against Puerto Rico on Friday night.
2014 #USABMNT World Cup roster - Guards: @drose, @StephenCurry30, @KyrieIrving, @KlayThompson, @DeMar_DeRozan and @JHarden13

— USA Basketball (@usabasketball) August 23, 2014
2014 #USABMNT World Cup roster - F/Cs: @KennethFaried35, @boogiecousins, @AntDavis23, @rudygay22, @AndreDrummondd & @masonplumlee

— USA Basketball (@usabasketball) August 23, 2014
Final roster:
PG: Stephen Curry , Derrick Rose , Kyrie Irving
SG: Klay Thompson , DeMar DeRozan , James Harden
SF: Rudy Gay
PF: Kenneth Faried
C: Anthony Davis ,  DeMarcus Cousins , Andre Drummond , Mason Plumlee
The cuts: Portland Trail Blazers guard Damian Lillard , Dallas Mavericks forward Chandler Parsons , Utah Jazz forward Gordon Hayward , and Atlanta Hawks forward Kyle Korver .
The move pretty much isolates shooting at the point guard spots and guarantees a lot of small-ball lineups with DeRozan and Harden at small forward, likely some with Gay at power forward. The point guarsd are scoring heavy, with Curry and Irving effectively filling the shooting need by themselves before you even get to Klay Thompson or Harden. 
Faried had separated himself in camp with this effort and rebounding. The assumption had been that the team would choose one of the shooters, Korver or Parsons, or possibly both, over one or both of Drummond and Cousins. Mason Plumlee had been considered a lock for some time, because... well... He just was, OK?
It's an unbalanced roster, but stacked in the areas they need. Shooters to break the zone, athletes to attack the rim, and bigs to score inside and control the glass. 
"Since taking over the USA Basketball Men's National Team program in 2005, this was without doubt the most difficult selection process we've gone through," said USA Basketball Managing Director Jerry Colangelo. "I can't stress enough the outstanding effort and commitment that has been given by each finalist. I also want to make it clear that this is not just about talent -- each player is incredibly talented and each player offered us unique skills. In the end it was about assembling the best team, selecting guys who we felt would be able to best play the kind of style we envision this team playing."
"The first thing is we are very pleased with the overall effort of every player who was a part of the process," said USA head coach and Duke University's Naismith Hall of Fame mentor Mike Krzyzewski. "To select 12 was difficult, because our pool is so good. As we go forward, we not only go forward as 12, we go forward as a pool for USA Basketball. As a staff we want to thank the players who are not going forward.
"I'm excited about the 12 players selected and feel we have excellent versatility and the makings of a really good defensive team."
Team USA will wrap up its exhibition schedule Tuesday against Slovenia in Gran Canaria, Spain. It will begin FIBA World Cup play on Saturday, Aug. 30 against Finland.
The Warriors new Nike classic uniforms will be revealed Thursday

Joel Embiid doesn't want to call what the 76ers are doing a minutes restriction

The Mavs played a tribute video to the American flag prior to their opening game on Wednes...
The Suns stink, but this was cool!

Melo makes it clear on Twitter that playing his ex-team is much more than just a regular game...

Warriors fans can breathe a sigh of relief, although Green isn't ready to return to action...