Team USA announces player pool for FIBA World Cup training camp
Team USA announces its 19 training camp participants, but where are John Wall and Kawhi Leonard?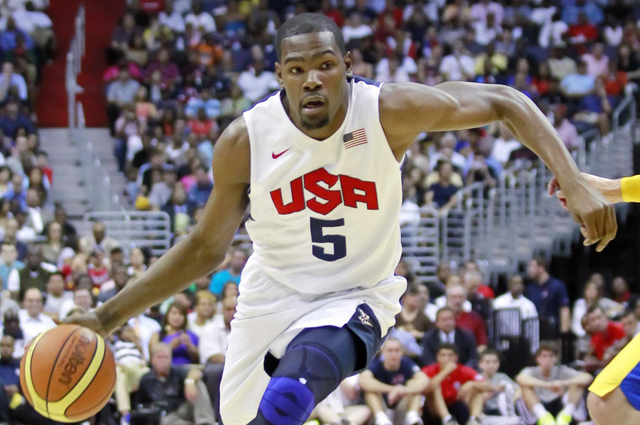 Team USA announced the final roster for its training camp in Las Vegas from which the 2014 FIBA World Cup USA Men's National Team will be selected.
The biggest, and most glaring exclusion is that of John Wall. It's fairly difficult to make the argument that Kyrie Irving is better than Wall, and Damian Lillard becomes essentially a tie once you factor in defense. There's still a good chance Wall makes it due to injury or another reason for someone pulling out, but that doesn't change the fact that his exclusion remains an insult for one of the better point guards.
Kawhi Leonard is the other notable exclusion. It's pretty hard to argue that his game wouldn't fit with the international style, or that he's not a better overall weapon than several of the wings available. 
The team is shooting-heavy, that much is clear. Curry, Thompson, Parsons, Korver, and Beal all essentially play the same role on a Team USA dynamic, though Curry can obviously also run point.
It's also not as stacked with super-athletes as some previous incarnations. That's due in part to several major stars taking the FIBA World Cup off as opposed to the Olympics, but this really is Kevin Durant's team now. He was the main guy in 2010, but now he's in fact the veteran. This team is as much his as older teams were Kobe Bryant's and LeBron James. 
Durant has won gold in both international competitions he's played in. The 2014 FIBA World Cup begins August 3 in Spain. After training camp the 19-player roster will be culled to the final World Cup team roster.
The investigation detailed a corrosive workplace environment

Also, when -- or rather, will -- the Warriors flip the switch?

The versatile forward has one glaring weakness, but Toronto can see it turning into a stre...
The investigation detailed a hostile workplace environment

Cousins suffered a torn Achilles tendon on Jan. 26, and will miss the rest of the season

Ingram has become one of the team's go-to players with Lonzo Ball sidelined with an injury