Team USA beat Spain for gold, and that's all that should matter
Could this 2012 team beat the 1992 Dream Team? I don't know that but we do know this: It could beat Spain.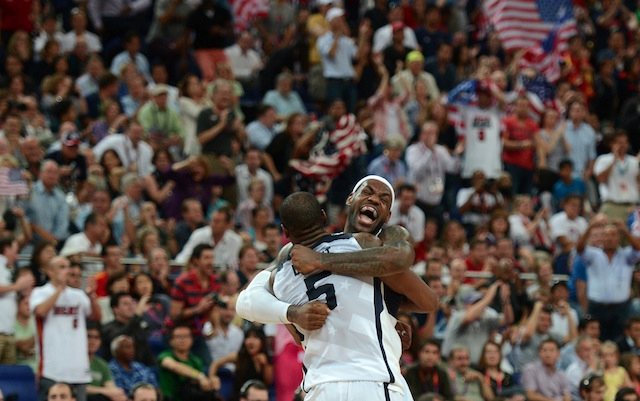 A golden hug.
(Getty Images)
Could this 2012 team beat the 1992 Dream Team? I don't know that but we do know this: It could beat Spain.
Related links
More on Olympics
With that fairly ridiculous argument hovering over virtually everything Team USA did, whether it was beating Nigeria by 83 or cutting it close against Lithuania, the end result was really all that mattered. A hypothetical matchup between the 1992 and 2012 was fun to play on paper, but the only game that counted was the one that was played Sunday against a stout Spanish side.
Because lose that one, and you lose gold, along with the Dream Team debate. The only way that silly discussion could ever continue on and remain unsettled would be if LeBron James, Kevin Durant, Kobe Bryant and the rest of this stacked team finished the job.
The path to gold in 2012 was far more difficult than it was in 1992 and Spain proved it as they remained resilient throughout. Each U.S. run was met with a Spanish counter. Pau Gasol played big, Serge Ibaka setpped up as Marc Gasol found foul trouble and Juan Carlos Navarro dropped huge 3-pointers to keep it close. Spain held a second half lead, holding strong until Marc Gasol was able to return in the fourth quarter. It looked like the United States could be a tough spot.
But in the end, it kind of went to script. Kevin Durant hit some massive shots, scoring a game-high 30. Chris Paul controlled crunch time, hitting a big 3 and dicing to the rim to a clutch layup. And LeBron capped off some kind of incredible year by knocking down an in-your-face 3 over Pau Gasol to seal the game.
What makes the American team so tough is that there are so many different weapons, so many different places to look for a big bucket. Spain was searching and while Pau Gasol and Navarro were able to provide some, there just weren't enough options. Team USA had plenty and it was enough.
All this U.S. team cared about was being one point better than Spain on Sunday. The Dream Team debate was for us -- media and fans. But the gold medal was for them. That was the prize, and that's what they wanted.
We can continue to argue the merits of either side, but it doesn't matter to the 2012 guys. They got their championship. They have gold around their necks. The 2012 Olympic basketball debate is settled: The United States remains the best in the world.
Kyle Kuzma is tired of how his teammate Lonzo Ball is being treated

The Warriors used a huge third quarter to come back from a 23-point deficit to get the win

Three takeaways from Golden State's 24-point rally past the Sixers
Okafor has played only 25 minutes this season

Capela's shoe slipped off, and was sitting near the free throw line

The Magic will instead play in the Las Vegas Summer League