Team USA beats Brazil 95-78, looks like they'll survive without stars
USA Basketball is powered by the hometown Chicago performances of Anthony Davis and Derrick Rose in their 95-78 warmup win over Brazil.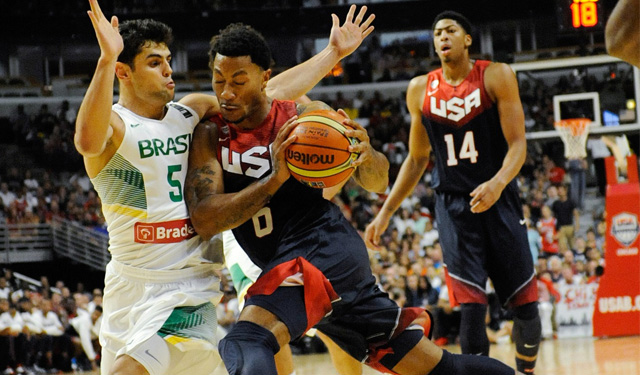 More USA Basketball: Anthony Davis throws down | Derrick Rose is back
USA Basketball won't have Kevin Durant or Paul George or Kevin Love. They won't have Blake Griffin or Russell Westbrook either. LeBron James, Chris Paul, Carmelo Anthony, and Dwight Howard aren't going to play when the competition isn't happening in the Olympics. But Team USA is still full of great talent from the NBA and it was on display in Chicago.
Playing in front of their hometown crowd, Derrick Rose and Anthony Davis reminded us of the super-human ways in which they're capable of playing basketball. We've only seen 10 somewhat disappointing games from Rose since he tore his ACL in the 2012 playoffs, but his speed, quickness, strength, and incredible impact he's capable of having on a basketball game were all on display against Brazil. 
Davis led all scorers with 20 points and was impossible for Brazil's NBA big men to keep up with. Nene, Tiago Splitter, and Anderson Varejao all found themselves trailing Davis running the floor at some point in the game. He was catching lobs, challenging shots inside, and he even knocked down a couple of midrange jumpers to show off his versatility. Davis' hustle and effort to dominate the game were on display in the fourth quarter as he went diving out of bounds and into the stands on the sideline to save a ball.
James Harden added 18 points for Team USA and Stephen Curry put on a shooting display early in the first quarter. We were also treated to Kenneth Faried's relentless hustle on the boards early on as he helped boost an early lead for Team USA that quickly got to double digits. 
Splitter, Nene, and point guard Marcelo Huertas showed their ability to stick in games and match elite talent for long stretches as they helped Brazil fight back and make it a close game during the second quarter and again in the second half. They were able to answer the runs by Team USA, but eventually the style of play proved to be too much for Brazil. 
Next up for USA Basketball is a couple of exhibition games at Madison Square Garden in New York City on August 20 and August 22. They'll play the Dominican Republic team and then Puerto Rico, as they decide on a final 12-man roster. 
Cuban acknowledged that tanking is 'brutal' and that he will no longer do that after this...

Cho has been the GM in Charlotte since 2011

Some of the best and worst from the league as we head into the home stretch of the season
Fergie: 'I'm a risk taker artistically, but clearly this rendition didn't strike the intended...

Victor Oladipo had a successful R&B album over the offseason and Jamie Foxx is a fan

Klay Thompson makes sure he stands out during All-Star Weekend