Team USA camp provides window into Love fest
When Team USA begins a seven-week journey Monday in Las Vegas, it will provide a window into the NBA's latest trade drama surrounding Kevin Love.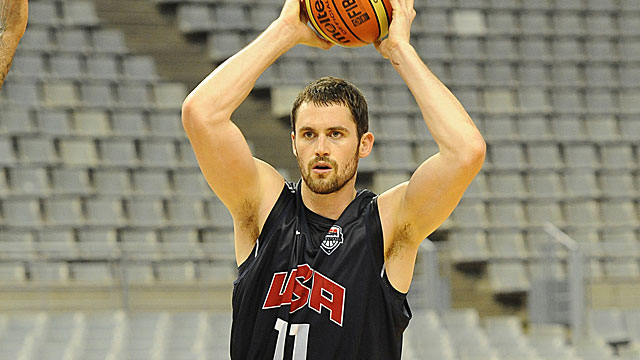 LeBron James and Carmelo Anthony have long since made their free-agent decisions. Kevin Durant is still two years away from his. So what will fuel the NBA's player-movement vortex during the lazy months between the end of Summer League and the opening of training camps?
We bring you Love-a-Palooza 2014, the NBA's next festival in endless (and often mindless) speculation about which star will go where -- not to mention when, and how.
The basketball crowd in Las Vegas has mostly thinned, but a new cluster forms anew early next week with USA Basketball's training camp for the FIBA World Cup. Veterans of international play such as James, Anthony, Kobe Bryant and Chris Paul are sitting this one out. Russell Westbrook, LaMarcus Aldridge, Blake Griffin and Kawhi Leonard have stepped aside for various reasons. 
That leaves the undisputed main attraction of Team USA's summer tour as none other than Kevin Love, whose uncertain future is likely to travel with the team (first class, I'm sure) on its journey from Vegas to Chicago to New York and then to Spain.
On this next journey down the NBA's player-movement rabbit hole, Love will practice with a collection of possible future teammates (Derrick Rose, Stephen Curry, Klay Thompson, Kyrie Irving) and against those who could well be traded for him. The USA Select team could credibly field a five-man rotation of players whose names have been endlessly plugged into trade machines in Love scenarios: Dion Waiters, Doug McDermott, Harrison Barnes, Jimmy Butler and Draymond Green.
There will be other storylines. If Team USA can win gold in Spain, it will gain entry to the 2016 Olympics and won't have to compete in the World Cup next summer. Not insignificantly, the training camp that begins Monday in Las Vegas will mark Rose's official return to the court after a second straight season mostly lost to injury.
But with all due respect, those themes pale in comparison to the NBA's next poster boy for free-agent angst -- Love, whose free-agent summer looms in 2015. It is a pretty great system forged, in part, by sweeping changes made in the 2011 collective bargaining agreement -- rules that have accelerated player-movement storylines and made the league relevant 12 months a year. I'm not sure what it says about the state of the NBA that it is more interesting in July than June, but that's the way it is.
Now, the league's long-time association with USA Basketball provides yet another window into the player-movement grist mill. Will the Cavs part with No. 1 pick Andrew Wiggins after the 30-day window following his contract signing Thursday? Will conversations the Bulls have had with Minnesota involving Taj Gibson, Nikola Mirotic and McDermott be enough to tilt the negotiating table in their direction? Will the Warriors ultimately cave and include Thompson in their offer?
Tune in starting Monday in Las Vegas -- and Aug. 14-16 in Chicago, Aug. 17-22 in New York and finally, Aug. 30-Sept. 14 in Spain. The NBA's free-agent Love fest, so to speak, never ends.
Warriors' forward doesn't understand the reasoning behind the all-too-common double technical...

Hardaway Jr. gave a 'safe' call like he was an umpire in baseball

Barnes hits the trey with less than a second left to lift Mavericks to dramatic 95-94 vict...
Kevin Durant was once again back in Oklahoma City

Gregg Popovich has never seen an injury lead to the issues that Kawhi Leonard has been fac...

Kobe Bryant, of course, had his 81-point game against Rose and the Raptors back in 2006