Team USA handles Great Britain in exhibition to zero surprise
Team USA crushes Great Britain in an exhibition game Thursday 118-78 behind strong performances from Deron Williams and Russell Westbrook.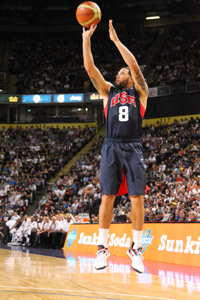 Team USA cruised to an exhibition win behind Williams.
(Getty Images)
Team USA Coach Mike Krzyzewski switched up his lineup Thursday vs. Great Britain in an exhibition game in Manchester, England. Kevin Durant started for Carmelo Anthony and Deron Williams started for Chris Paul. The results were mixed on the micro level. On the whole, though?
Ho-hum. Domination. Team USA 118 Great Britain 78. Thump. 
More on Olympics
Related links
The mixed results included Williams' excellence. Williams was lights out from the outside, and finished 7 of 8 from the field, 5 of 6 from the arc, with 19 points and 5 assists. Durant, on the other hand, struggled with just 13 points on 12 shots with 3 fouls and 2 turnovers. It was a rough day that included a missed three, a missed dunk, and a missed layup inside of twenty seconds. 
Anthony, on the other hand, finished with 19 points on 10 shots, and was aggressive without being ball-dominant. 
Russell Westbrook, though, may have made the biggest impact, with 15 points and nine assists. He found his teammates in all the right places, including several oops, and a particularly devastating reverse alley-oop to Kevin Love, and some hounding defense. 
That was really the key to the victory, once you get past the talent differential (which was huge, as Luol Deng, Pops Mensah-Bonsu, and Freeland were the only players for Great Britain to really be anywhere near Team USA's level). Team USA's strategy was eerily similar to the Miami Heat's last season. Create turnovers with pressure defense using athleticism, get out in transition, finish with dunks. That was the model and it helped USA cruise.
Team USA had 16 steals in this game, with 11 coming off of GB's best players in Luol Deng and Mensah-Bonsu. Deng and Mensah-Bonsu helped GB stay close in the first quarter by getting into the lane and attacking the rim, before Tyson Chandler started to adjust and Team USA started pressuring at the halfcourt line. 
Then it was pretty much over. 
The big concerns for Team USA are the same, with a lack of defenders at the rim, a lack of big men, and the always-present fear of a letdown vs. inferior competition. But for an exhibition with jet lag factoring, not bad at all. 
Team USA heads to Barcelona, Spain for their toughest test yet with two exhibitions against Argentina and Spain starting on Sunday, before relocating to London in advance of the start of the Olympic Games on July 29th. They have some things to tweak before then. But after a "meh" performance last weekend against Brazil, Team USA is in position to move forward, ready to take on the world. 
Or at least Great Britain. One or the other, really.
Trump rescinded Curry's invitation to the White House after Curry said he wasn't interested...

Silver said he was hoping Warriors would get chance to share their views directly with the...

Along with the Thunder, those were the three teams most involved in the Anthony trade talk...
LeBron said he was frustrated by the President's recent actions

A look at the various actors and elements in the latest sensational blockbuster trade in the...

Blockbuster deal doesn't change the Thunder's projected finish in the West