Team USA-New Zealand Preview: An American response?
USA didn't look bad vs. Turkey but they didn't look great either. Can they respond in a big way vs. New Zealand?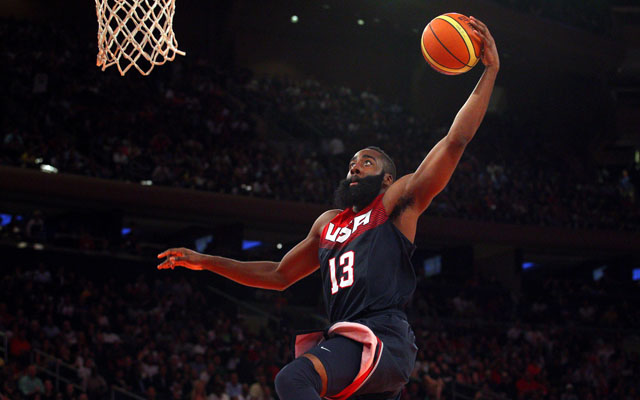 Team USA will face New Zealand at the 2014 FIBA World Cup on Tuesday. You might have some questions about this, and we're here to answer them.
When and how can I watch it? 11:30 a.m. ET on ESPN2. You can also stream it on WatchESPN.
How's Team USA doing? Their opening game was a dominant, overwhelming demolition of Finland. Their back-to-back game vs. Turkey was a combination of fatigue and probably a little overconfidence. Turkey lead at the half and everyone got all excited about the idea of Team USA losing and "this shows what happens when you're not prepared for how good Europe is" and blah blah and then Anthony Davis showed up. 
And that was a lot like this: 
Team USA opened it up in the third quarter and wound up cruising to "only" a 22-point win. Was the final margin indicative of how close the game was? No. Is the idea that this game was "close" really accurate in the end? No. Team USA is going to struggle at times. It might even lose to Spain, because Spain is really good and weird things happen in basketball. 
But they're still way, way better than everyone else. 
So how's New Zealand? Well, they only lost to Turkey by three in the opening game, so that's a little scary. Then they lost to the Dominican Republic the next day and only scored 63 points. So... maybe not quite as scary as first thought. 
They're 0-2 in group play against teams worse than Team USA, but they're not, like, Egypt or anything. 
Who is exactly is on the team? Say hello to Thomas Abercrombie. 
There's also Kirk Penney:
And Nebraska Cornhusker Tai Webster:
What should I pay attention to? Intensity of response. Team USA wasn't embarrassed, but they were challenged. The Turkey game was a wake-up call to the fact this won't be a breeze. At the same time, both as professionals, and through the coaching staff, they're likely to focus on not getting too high or low based off performance and simply playing to their strengths. 
They could also use to get the three-point game back in gear. Turkey's zone messed with Team USA for a bit. The formuala for Team USA is pretty basic. Anthony Davis plus shooters equals victory. But they're going to need better perimeter defense, especially from Kyrie Irving and James Harden, who took major steps back vs. Turkey. 
Should I watch this? Absolutely! 
Why?
... Look, the one time Team USA screws up one of these years and drops a game under Coach K will be a big deal and you'll want to watch it to see it to know who to throw blame at on social media. And New Zealand's not the most likely candidate, but they're more likely to have a bad game and drop one to a team like New Zealand than to have a team like Brazil or Argentina with NBA talent catch them napping. 
And Anthony Davis really is something to see. 
Did you know? New Zealand's two islands were only discovered by foreign explorers just 800 years ago. They're still a baby! 
How does New Zealand fit into the larger human family tree?

New Zealand's two islands were among the last discovered by humans just 800 years ago, and also one of the last places colonized by Europeans just 200 years ago. And like Americans, Kiwis are an admixed* group, yet the genetic mixture is younger, and thus easier to piece apart. And it can't go without mentioning; Wellington is the last (southern-most geographically) of the world's capitals, and almost the last one alphabetically, too. No thanks to Zagreb, Croatia.
via The Genographic Project unveils the ancient ancestry of New Zealand, the world's last settled islands – News Watch.
Oklahoma City has reportedly offered the MVP a five-year extension worth over $200 million

The big man was a big part of the Warriors' championship run last season

The Cavs jokes were out in full force after Golden State reportedly agreed to sign Antonius...
New York seems to be at the top of Irving's list of preferred destinations

Is it just a normal workout, or is LeBron continuing his recruiting efforts?

Chris Bosh answered on the spot about the LeBron James and Kyrie Irving situation