Team USA topples Argentina: The Good, the Bad, and the Ugly
Examining Team USA's 109-83 win over Argentina, the good, the bad, and the ugly.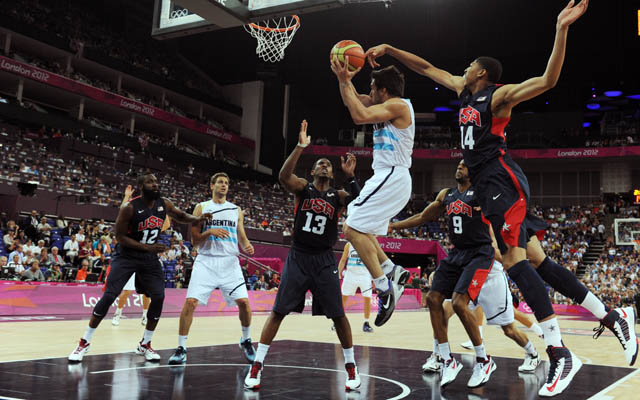 Team USA smothered Argentina on Friday.
(Getty Images)
Examining Team USA's 109-83 win over Argentina, the good, the bad, and the ugly.
The Good: The gameplan. Team USA would control the tempo and flow, Argentina would make a run. But instead of trying for adjustments or drastic changes, Team USA stuck with the plan. Pressure defense, perimeter shooting off the drive-and-kick, collapse to rebound. Basic, effective, victorious. 
Argentina did everything it could to try and disrupt the plan, trying to muck up the ball movement and force the tempo. Unfortunately, trying to force the offensive tempo means having to deal with the defensive tempo. Which means athleticism far superior to their own. Which meant badness. 
Coach K has enough comfort with the roster to not have to become concerned about runs, but it still should be noted that the trust this team has in itself gives it an advantage. 
The Bad: The dry spell. For a while, the shots just wouldn't go down for Team USA and that was how Argentina kept it close. On one possession, USA missed three consecutive shots from the arc. Nothing would go down. 
There's a debate about whether this team can shoot well or not. The reality is that they're a collective of streaky shooters. And when they all go cold at once, it can get ugly. 
Additionally, it was a struggle for the Americans to keep Manu Ginobili on lockdown. You would think that might be their priority since it's Manu Ginobili, but it was a problem. Part of that can't be avoided, though, because, again, it's Manu Ginobili. But when the Argentina offense was running with Ginobili making cuts, it wasn't their best defensive moment. 
The Ugly: The letdown. This was supposed to be a titanic clash between Team USA' biggest challenger for the past decade in their last run as a unit, with a shot at the gold on the line. Instead, it was yet another run-away for Team USA. They even covered the 25.5 spread. 
There has been so much talk about how this Team USA team matches up with the teams that came before, without really looking at the fact that the other teams don't match up with their former selves, either. And it would appear that Team USA is closer to their standard than the other nations are to theirs. 
Kobe Bryant had a solid piece of advice for back in 2016 when he left OKC for Golden State

Not many games, but still plenty of action and intrigue Sunday in the Association

An old rivalry is reignited between LeBron James and the Cavaliers and John Wall and the W...
SportsLine's Mike McClure, a DFS pro with more than $1M in winnings, gives optimal lineup...

LeBron had 29 points, 11 rebounds, and 10 assists in the Cavs' 109-100 win over the Jazz

The montage showed Carmelo's best Knicks moments before playing the Thunder game