Team USA-Ukraine Preview: Sweeping group play
Team USA plays their fifth and final game of group play on Thursday as they face Ukraine to try to sweep their group play.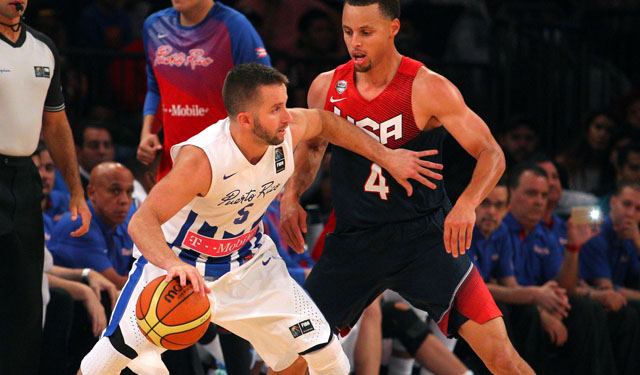 Team USA will face Ukraine at the 2014 FIBA World Cup on Thursday. You might have some questions about this, and we're here to answer them.
When and how can I watch it? 11:30 a.m. ET on ESPN2. You can also stream it on WatchESPN.
How's Team USA doing? In a word, feasting. Even with the drama of the slow starts and taking until the second half to truly blow a lot of the teams out, Team USA is still undefeated in group play and has the biggest point differential in the tournament. It helps that the first game was a 59-point blowout of Finland, which skews the numbers a bit. USA Basketball has still beaten Turkey by 21 points, New Zealand by 27 points, and Domincan Republic by 35.
They're plus-142 points for their four games. The second best team in this tournament is Spain with a 4-0 record and a differential of plus-110 points. Greece (plus-57) and Slovenia (plus-54) are the only other undefeated teams in the tournament. There seems to be some worry because Team USA hasn't been better against the lesser competition, but blowout wins are still blowout wins. It's better for them to struggle with their starts now than with elimination play starting on Saturday.
This won't fly against Spain but they may have more of a rhythm and more continuity when the gold medal game rolls around. For now, the energy of Anthony Davis and Kenneth Faried is saving them.
So how's Ukraine? They've been solid in group play so far. They're 2-2 with the second best point differential at minus-one. They're tied with Turkey, who they beat on Tuesday in a 64-58 win. Their other victory was over Dominican Republic in their first game with a 72-62 win. The two losses have come against Finland (81-76), after Finland was ready to prove they weren't some steamroll fodder like they showed against Team USA, and against New Zealand (73-61), when they couldn't keep the Kiwis from doing what they wanted on offense.
Who is exactly is on the team? Ukraine has some NBA talent. Eugene "Pooh" Jeter is the guy moving this engine as their point guard with NBA experience. Jeter played for the Sacramento Kings during the 2010-11 season and has spent time in Spain and China since then. He can score but he'll be tested by the swarming USA perimeter defense. If he can handle the gambling attempts by the USA guards, he can get the ball into the middle of the floor.
Ukraine also has Viacheslav Kravtsov, who has spent time on the Milwaukee Bucks, Detroit Pistons, and Phoenix Suns. He was last seen on the Suns before being waived during the 2013-14 season. He's a gigantic human being who could be trouble on the boards. We could also see Sergii Gladyr in the NBA some day. The shooting guard's draft rights are owned by the Atlanta Hawks.
What should I pay attention to? Let's see what kind of killer instinct this USA Team has. The slow starts aren't reason to panic but they're a bit troublesome. USA needs to come out and destroy this Ukraine team from start to finish. Ukraine isn't bad by any means and they've been solid in this tournament, but USA is better than them everywhere on the floor and in every aspect of the game. Another slow start makes sense with the lack of continuity USA has been able to create in such a short amount of time together, but they have to kick this habit eventually. Let's also see if the guards can carry this team instead of Faried and Davis doing all of the exciting dirty work. Derrick Rose, Kyrie Irving, and Stephen Curry should all be able to have big impacts.
Should I watch this? Yes, of course. It's midday on a Thursday. We both know that neither of us have anything better to do. And the Ukraine has been a good, scrappy team throughout this tournament that could give USA the same fits at the beginnings of games other teams have.
LeBron James will try to finish off his 30,000 point milestone tonight when the Cavaliers play...

The old rivalry of Celtics-Lakers is renewed once again, but the stakes are still pretty l...

David Blatt thinks Cleveland players aren't doing enough for Tyronn Lue and the rest of the...
Lillard has a private meeting with owner Paul Allen over the future direction of the organ...

The reserves will be drafted playground style by LeBron James and Stephen Curry

Seven players from each conference will join the starters